15 September 2014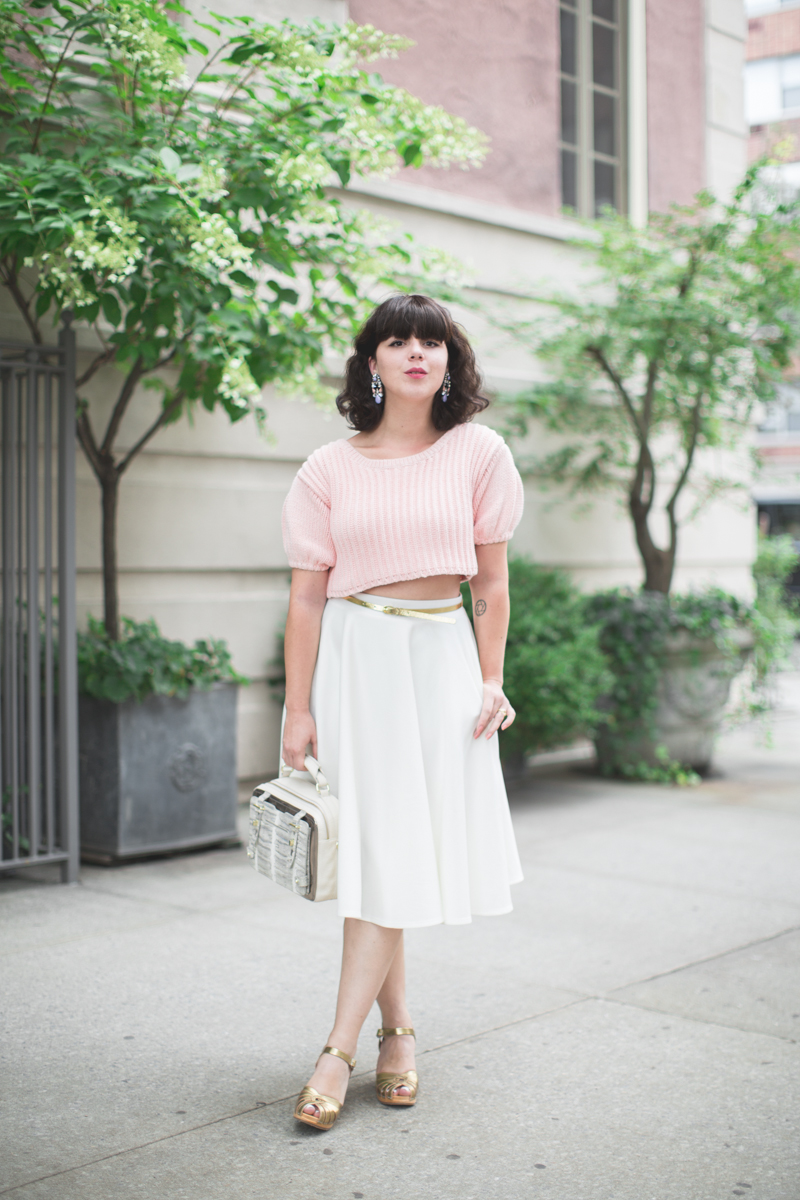 Tant que je peux porter de l'été, j'en porterai !
Je ne suis pas du tout pressée de remettre des vestes et des chaussures fermées… Nous avons eu un beau dimanche à New York, les températures sont plus fraîches le matin et le soir depuis quelques jours, mais dans la journée le soleil est encore bien chaud. J'en profite au maximum, car le compte à rebours du retour en Europe commence à se faire plus présent. En mars, bye bye New York et bonjour la Suisse ! Encore quelques mois in the City, certes, mais ce sont bel et bien nos derniers jours d'été en tant que new-yorkais… Sniiiiif !
Je porte une jupe midi ASOS en néoprène crème (que j'ai aussi en vert mint, en rose pêche et en noir), un petit pull court manches ballons de la marque Romy and Ray dont je vous avais parlé plusieurs fois l'hiver dernier (toujours aussi fan de leurs tricots originaux), des swedish hasbeens dorées, une paire de boucles d'oreilles SHOUROUK dénichées sur videdressing.com (depuis le temps que je rêvais de boucles d'oreilles SHOUROUK, j'ai enfin trouvé exactement celles que je voulais !), un sac Etienne Aigner que je ne quitte plus depuis quelques jours !
J'espère que la tenue vous plaira !
À très vite, j'ai plein de choses à vous montrer cette semaine : la fin de mon séjour en Australie, ma Fashion Week new-yorkaise, des photos d'un chouette week-end à Chicago et d'autres looks…
Bon lundi à toutes !
–
Jupe midi en néoprène ASOS – Tricot ROMY AND RAY – Sandales SWEDISH HASBEENS – Stag Bag ETIENNE AIGNER – BO SHOUROUK via videdressing.com – Vernis à ongles So Laque Glossy BOURJOIS Paris "Tombée à Pink" – Lipstick Rouge Edition Velvet BOURJOIS Paris "Frambourjoise"
Leave a comment
In the same category :
12 September 2014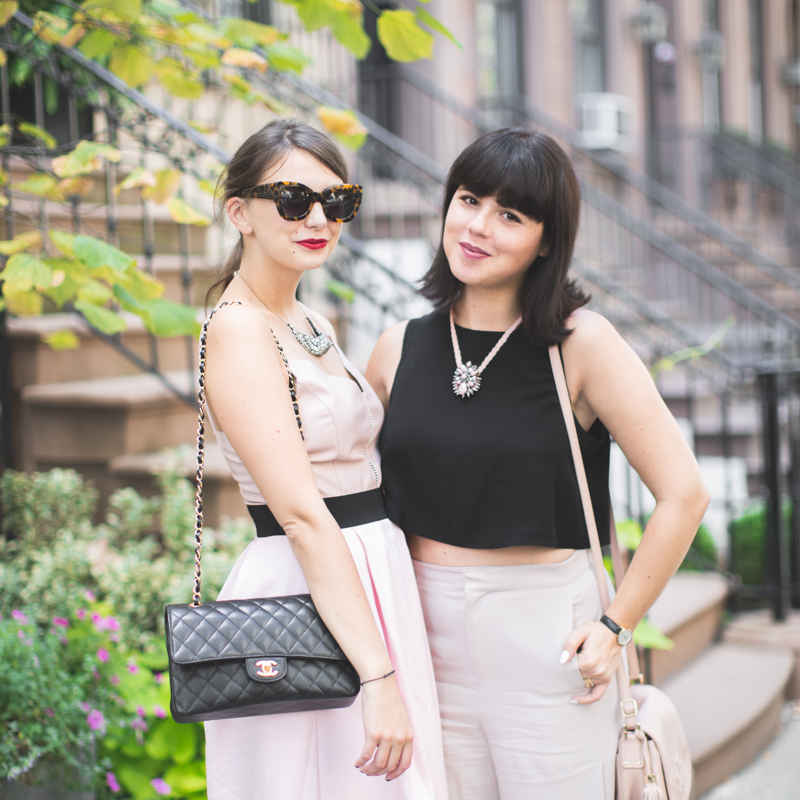 A Fashion Week outfit, the one I wore to attend Hervé Léger show, that you'll know more about in my traditional Fashion Week Diary.
I had the pleasure to welcome my friend Emilie aka The Brunette for a few days. It's so much better to run from fashion shows to brunches to shopping sessions to cocktails with a friend! We had a wonderful week, even though it was too short.
But let's talk about my look! As for every Fashion Week, I struggle to find the perfect outfit : both trendy (it's now or never!) and practical since I carry several pounds of photo material. For Hervé Léger show, I was wearing an outfit that allowed me to walk backstage, to kneel down to take pictures and to carry my camera without twisting my ankle or showing my underwear J
You might have noticed that I've cut my hair a little shorter ;  I also had them dyed in a color that is closer to my natural tone.
I hope you'll like the outfit!
As for Emilie, you'll find all the details on her blog here (I'm sure you recognized my Chanel bag and my Shourouk necklace? We swapped a few things during the week…)
–
TARA JARMON top, CLUB MONACO culotte, TORY BURCH bag, Shourouk necklace (borrowed from Emilie) , ASOS shoes
Leave a comment
In the same category :