11 December 2013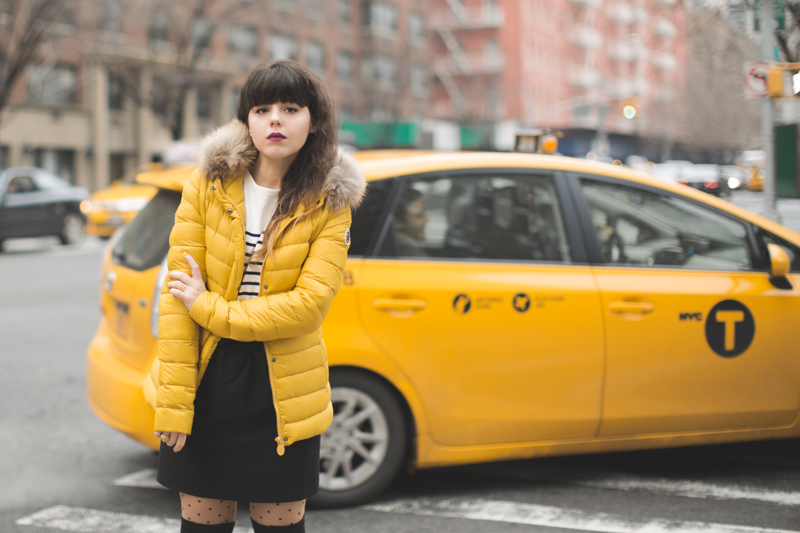 December 11th, and it's already the fifth window of our Advent Calendar! And it's not over! Let's talk about my outfit first, then we'll meet at the end of this article for the Gertrude giveaway!
Well, okay, I know, yellow cabs again… But it's not my fault if they're all over the place in New York landscape! And… I couldn't resist matching them with my Gertrude padded coat for the pictures!
You had liked the grey Huguette in this post, now let me introduce you to yellow Olga! As warm and comfy as her sister, a little shorter and a little less fitted with its boyfriend cut. Good point : it has removable sleeves. Like almost every Gertrude padded coat, Olga is available in many colors. Between the 14 options, I thought that this yellow gave it the look of a Brittany raincoat. Childhood memories and Proust madeleine effect – it won me over!
Obviously, I decided to wear it with my favorite sailor sweater and my new rain boots – I'm ready to face the rain (or rather the melted snow that has been falling for two days – and horns and alarms).
These "wellies" come from Havaianas : the Brazilian brand doesn't only design sandals, they also design cool rain boots. They are great with their glossy colors : a good way to add colors to the greyness while keeping your feet dry!
By the way, if you're not sick of giveaways, STYLE LOVELY offers you a chance to win a pair of Havaianas rain boots here.
A yellow padded coat, a sailor sweater, a skirt and a pair of rain boots : Silly Lilly inspiration.
Can't wait to know what you'll think of this little outfit!
INFO : 30% OFF on EVERY Gertrude padded coat with the special code PAULINELOVEGERTRUDE
————-
Olga Padded Coat GERTRUDE – Rain boots HAVAIANAS- Skirt MADEMOISELLE R – Sailor Sweater PETIT BATEAU x KITSUNE – over the knee socks TOPSHOP – Thights Polka Squares WOLFORD
CHRISTMAS GIVEAWAY #5
To win your favorite padded coat, you just need to leave me a comment (with a valid email address) before December 18th at midnight, telling me which coat you would like to win, and in which color.
In which Gertrude padded coat would you like to walk proudly and warmly this winter : Félicie, Adèle, Hilda, Louise, Rose, Laurette, Alice, or Iseult ? Céleste ? Or Victorine ? In what color ?

The winner will be chosen randomly among your comments and will receive her favorite coat.
For those of you who can't wait or think they won't be lucky, don't forget to use the code PAULINELOVEGERTRUDE to get 30% OFF.
Good luck to everyone, and see you soon for another giveaway!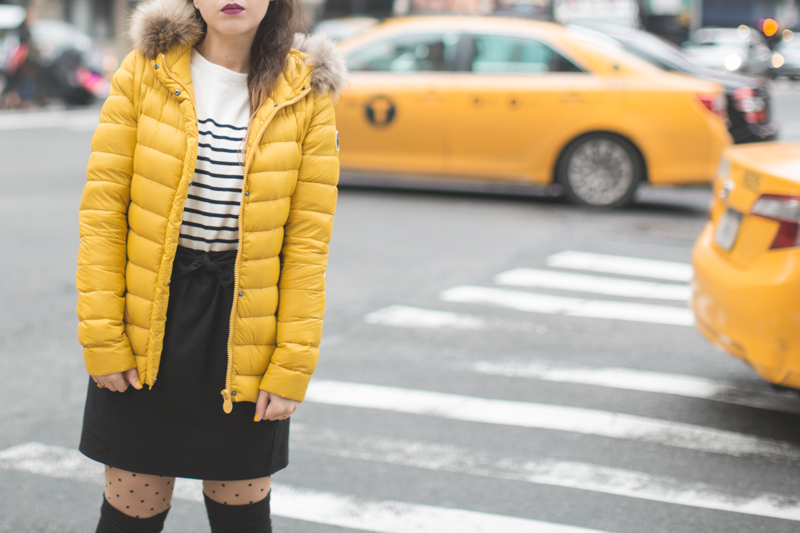 Leave a comment
In the same category :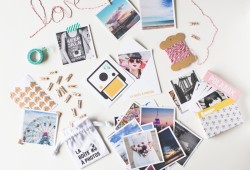 Christmas Giveaway #4 PO…
9 December 2013
9 December 2013
Sorry, this entry is only available in Français.
Leave a comment
In the same category :