29 October 2014
De retour avec mes cheveux courts après le flashback du dernier article, pour un post qui me tient particulièrement à cœur.
Au début du mois d'octobre, je vous montrais ici ce qui se cache en général dans mon sac, à l'occasion de la sortie du BHI Bag 2014 Tommy Hilfiger dont 50% du prix de vente est reversé à Breast Health International qui œuvre dans la lutte contre le cancer du sein. Et comme promis, je vous montre aujourd'hui ce joli sac en édition limitée dans une tenue.
Ce sac, soyons honnêtes, il va avec tout ! Avec une tenue simple, un jean et un t-shirt blanc, un joli rouge à lèvres bien rouge et une paire de ballerines ou de baskets, il est parfait. Pas besoin d'en faire des tonnes avec un si beau sac ! Mais pour le mettre vraiment en valeur, j'avais envie de vous le montrer avec une belle tenue Tommy Hilfiger (si je rajoute "shoppée sur la 5ème avenue, à quelques blocks de chez moi", c'est trop "comment elle se la pète new yorkaise maintenant" ?)
Je porte donc une veste teddy et un short coordonné en laine à carreaux, un petit pull en tricot beige et une paire de mocassins pointus dont je suis complètement folle et que vous risquez de revoir bientôt tant j'ai envie de les porter à toutes sauces. Nous avons shooté ce petit look parfait pour la saison à Central Park, avec une jolie lumière matinale et les arbres qui commencent à se parer de couleurs automnales. J'espère que les photos vous plairont !
Encore merci à la marque Tommy Hilfiger de m'avoir offert l'honneur de participer à ma façon à cette belle action !
Et surtout, n'hésitez pas à craquer sur le BHI bag, c'est pour la bonne cause ! Octobre rose est bientôt fini !
À très vite !
–
Sac en cuir TOMMY HILFIGER x BREAST HEALTH INTERNATIONAL - Veste Teddy TOMMY HILFIGER – Short à carreaux TOMMY HILFIGER – Mocassins HILFIGER COLLECTION

Leave a comment
In the same category :
27 October 2014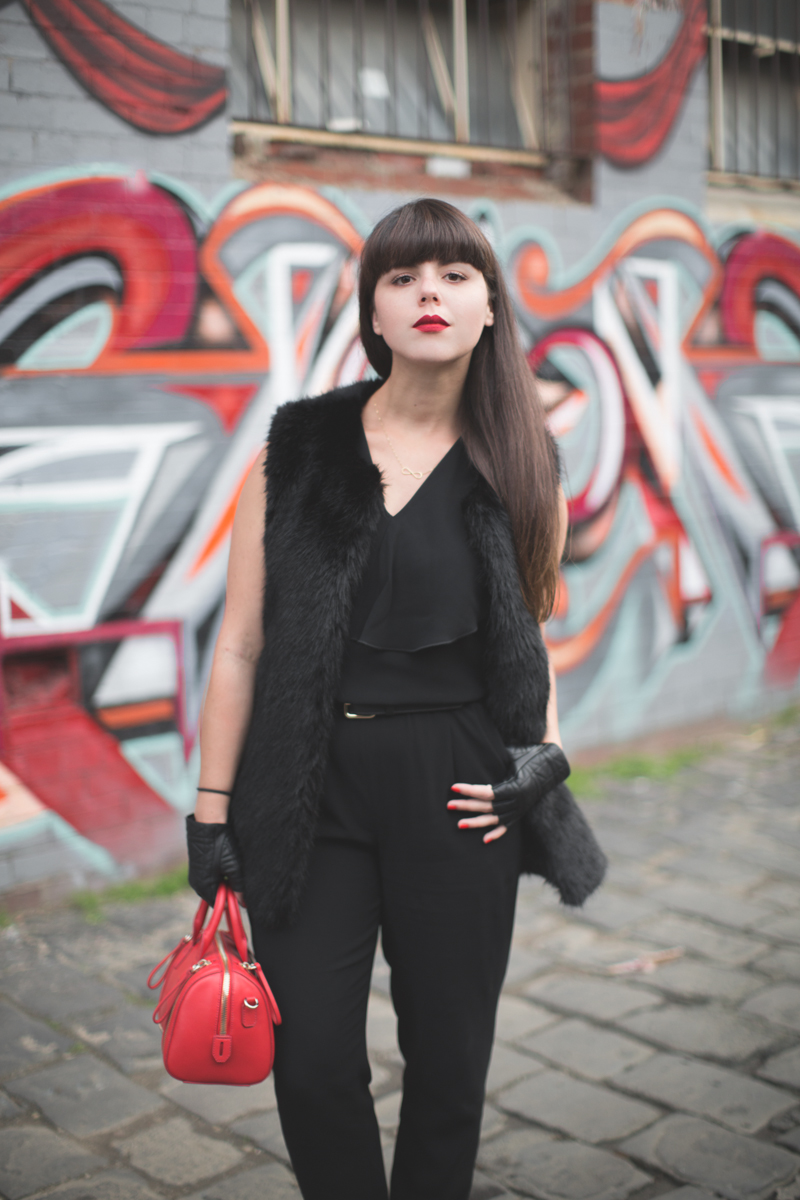 Wow! It's so weird to publish this article only now !
We took these pictures a while ago, back in Melbourne, during austral winter, for the Karl Kids section of the Karl Daily magazine, distributed a few weeks ago around Karl Stores, and now available online here (my look on page 16).
Needless to say I was so proud to be one of the bloggers chosen for this section!
But what feels weird today is that it was the last time I straightened my hair before cutting it "short" for my 30th birthday (here), a few days after our road trip in the Queensland.
Even though I really like my new haircut now – my hair is healthier and my curls look better each day thanks to the nice products I've found (how about a "how to care for your curly hair" article?) – I feel nostalgic seeing my hair this long! It almost makes me want to grow them again…
I hope you'll like the outfit and the pictures, taken in Fitzroy neighborhood in Melbourne.
Have a nice week, and see you soon!
–
jumpsuit KARL LAGERFELD – faux-fur sleeveless coat KARL LAGERFELD – studded belt KARL LAGERFELD – red letaher bowling bag KARL LARGERFELD – Kuilted fingerless gloves KARL LAGERFELD – shoes SEE BY CHLOE
Leave a comment
In the same category :