1 September 2014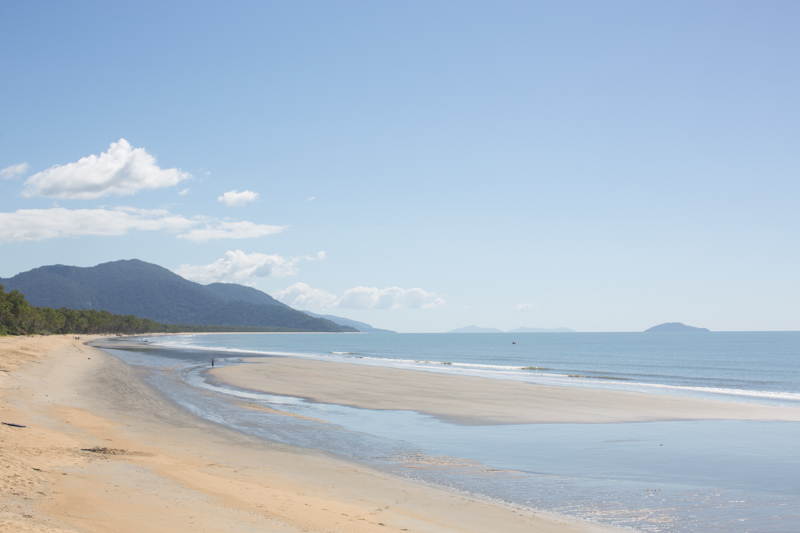 J'ai mis du temps à trier toutes les photos de notre voyage en Australie, mais ça y est je suis enfin prête à vous raconter mes vacances, alors que la rentrée bat son plein ! Décidément en ce moment, j'ai des problèmes de timing, ahem. On va reprendre le rythme habituel, c'est promis !
–
Après quelques jours à Melbourne, nous avons pris l'avion (encore !) direction Cairns pour la partie la plus excitante du séjour : une semaine de roadtrip dans le Queensland, un état du nord tropical de l'Australie. Autant pour Melbourne, l'hiver austral n'est pas la meilleure période pour visiter, autant pour le Queensland, c'est la saison sèche donc nos vacances d'été d'hémisphère nord sont la période parfaite pour découvrir les merveilles de ce gigantesque état.
Pour vous donner une idée, juste l'état du Queensland, c'est presque 14 fois la surface de la France… 14 fois !! Et c'est ce qui est complètement fou en Australie : les distances ! J'avais acheté un guide du Queensland et corné les pages d'endroits que j'avais envie de visiter, sans me rendre compte qu'entre deux points de ma liste il y avait parfois plus de 800 km ! #fail !!! Il a donc fallu revoir notre plan de route de manière réaliste : le but étant de voir un maximum de choses certes, mais sans passer notre temps sur la route non plus. Nous avons donc rayonné autour de Cairns et dans le nord de l'état, en faisant au maximum 2-3 heures de route par jour, en changeant de camping tous les soirs, et nous avons déjà été très impressionnés par la diversité des paysages.
Nous avions loué un van pour 4 avec Clément et Hélène (Nougatine, les macarons, pour celles qui suivent ; ) sinon séance de rattrapage ici) chez JUCY. Pratique, on pouvait dormir à 4 dedans, il y avait un frigo. C'était franchement nickel. Si vous faites un road trip à moins de 4 personnes, ou que vous avez prévu de déplier la tente plutôt que de dormir à l'intérieur du van, regardez les locations chez WICKED, ils louent des vans complètement recouverts de graffiti, c'est plutôt original !
Il faut savoir que le camping, c'est un peu une religion en Australie. Il y a beaucoup de backpackers et de jeunes qui profitent du fameux visa Working Holiday. Les campings sont super bien équipés (barbecue à disposition pour les soirées entre amis !). Nous n'avons pas fait de camping sauvage, c'est interdit et ça fait quand même du bien de prendre une douche le soir ; )
Voilà une liste de destinations à inscrire au plan de route d'un road trip dans le nord du Queensland que vous pourrez reconnaître sur les photos.

PORT DOUGLAS
Passage obligé par la jolie station balnéaire très touristique de Port Douglas. Plage carte postale, pas de méduses "stingers" ultra toxiques à cette saison. Si vous voulez voir des koalas, des kangourous et des wallabys visitez le refuge/zoo Port Douglas Wildlife Habitat.
CAPE TRIBULATION – DAINTREE NATIONAL PARK
Des plages sublimes complètement désertes, la rainforest qui se jette dans une eau turquoise, la mangrove qui émerge du sable fin… Des paysages à couper le souffle. On prend un bac avec la voiture ou le van, je vous conseille d'y passer 2-3 jours, c'est vraiment un des endroits les plus incroyables que nous ayons l'occasion de voir de nos petits yeux ébahis.
DAINTREE VILLAGE
Parfait pour une balade sur la rivière au lever du jour, quand la brume se dissipe et qu'on peut apercevoir (de loin, ouf !) des crocodiles !
LE CIRCUIT DES CASCADES
à 15km de Yungaburra, les cascades Millaa Milaa, Zillie et Ellinjaa, on peut se baigner dans la dernière, mais l'eau est trèèèès froide !
JOSEPHINE FALLS & THE BOULDERS – BABINDA
à 20km d'Innisfail, la cascade Joséphine dans laquelle on peut se baigner. Et à 7km de Babinda, les "boulders" sont aussi un chouette endroit pour se baigner si vous ne craigniez pas l'eau trop fraîche ; )
MOSSMAN GORGE
Encore de l'eau froide et des paysages dingues de rivière limpide dans la rainforest luxuriante.
LES PLANTATIONS DE CANNES À SUCRE
À admirer depuis le van : les routes sont bordées de champs de cannes à sucre. En juillet quand nous y étions, elles étaient en fleurs, c'était magique à toute heure de la journée.
ETTY BAY
Un camping en bord de plage sur lequel nous avons vu, et même côtoyé, disons-le, des casoars, un adulte et un juvénile. Ces oiseaux sont super dangereux s'ils vous chargent mais si vous ne les narguez pas des fruits, que vous ne criez pas et que vous ne vous mettez pas à courir en leur tournant le dos, ils vous snobent royalement.
–
Dans le second post spécial Australie, nous parlerons des activités qui peuvent se faire au départ de Cairns : plongée sous marine et snorkelling sur la Grande Barrière de Corail, lever de soleil en montgolfière, téléphérique perché dans la forêt tropicale à plusieurs dizaines de mètres du sol, etc.
J'espère que ces images de notre road trip prolongeront un peu l'esprit des vacances pour celles qui sont en pleine rentrée !
À très vite !
Leave a comment
In the same category :
26 August 2014

In about a week, fashion weeks craziness will start again !
I'll be there, in New York and Paris, as I have been for a few seasons now, taking pictures of the catwalks I will attend and trying to give you a chance to catch a glimpse behind the scenes when I'll have backstage passes.
I just can't wait!
The most faithful followers may remember I never published the last article of my Paris Fashion Diary in last February/March. I had so many pictures to classify, it took me hours and hours of work, and I finally had an overdose… I had decided to take a break and show you something else in order to clear my head before going back to long sessions of sorting, editing in the dark and writing my reviews.
Bad idea…
Lost between my overflowing inbox and my overdue articles, I completely forgot to finish writing this unfinished post…
When I went back to my previous article, I realized that I had never ended the story of my A/W 2014 Paris Fashion Week. SHAME ON ME, you can say it!
So it's now or never!
In fact, now is the time autumn/winter collections arrive in stores! So instead of sharing my pictures almost in real time as I usually try to do, the opportunity of sharing them with you now isn't so ridiculous… At least, this article will be a reminder of next season's major trends as seen on catwalks.
By the way, I'd like to ask you a question I've been wanting to ask for a while now : how do you want me to talk to you about Fashion Weeks?
I easily get lost when it comes to organizing my Fashion Week articles…
Do you like the articles to be focused on only one show (as for Jean Paul Gaultier and Tsumori Chisato)?
Or do you like it better when I add my outfit of the day (when Romain is available), streetstyles, or event pictures as I did here, here and here?
Do you like getting a lot of information at once, like today, or do you think it's way too much?
I mean, how would you like me to talk about NYFW and then PFW?
Of course there will be live pictures on Instagram, and not only on my account. We'll talk about it again when the time comes, but I'd really like to know what you like best!
Ideally, I'd like to show you everything I can and a maximum amount of silhouettes from the runways as well as beautiful backstage moments when possible. This way, it would be almost as if you were attending the Fashion Week for real. But the thing is, if I want to do this right, it takes a lot of time to sort and edit pictures, so it's hard to be near real time for every show. I think I can do it in NY because I'm home, but it won't be as easy in Paris because I also go back to France to see friends and family.
And I don't even know if you're interested in seeing as many pictures? Or even if it's interesting to see it "live"?
Well, not six months later, all right, I'm sorry…
Any further ideas are very welcomed! I'm all ears, and I really hope you will help me on this.
What would you like to see? How much? When?
Please keep in mind that I don't have any team working for me to take pictures or edit them while I sleep J
I'm waiting for your feedback!
Meanwhile, here is the (updated) article I wrote a few months ago.
-
A very long article with many beautiful things from A/W 2014 Fashion Week I attended in Paris in last February/March : intense, great, but endless!
I had told you a little bit about my Paris Fashion Week before, here, but also in more detailed reviews of different shows : Jean Paul Gaultier, Paul & Joe, Tsumori Chisato… but then I was drowned under a sea of pictures to sort.
It had been a very intense week : in addition to the presentations and the three runways I just mentioned, I attented Etam, Elie Saab, Jean-Charles de Castelbajac, Kenzo, Issey Miyake and Sonia Rykiel shows.
As a result of this race against the clock with my Canon 5D mark III L series in my pocket?
A way too long article with too many pictures, but that should immerse you in the magic of Paris Fashion Week!
I'm sorry for those of you who will be lost along the way, and also to those of you whose right hand will hurt for scrolling down to the end of my article!
I hope you will still enjoy this article as much as I enjoyed seeing and taking pictures of so many beautiful things!

Finally! I had been invited many times to ETAM Live Show, but I had never managed to attend it until then! I arrived to the 8th one right from the airport, jet-lagged, exhausted, my eyes ringed with fatigue. I wasn't disappointed : original lingerie, a front row full of celebrities, Massive Attack, Kavinsky, Aezalia Banks and Eve on stage… It was as good as expected! Look at this:

I went to Swarovski creative studio to say hi to Nathalie Colin, Swarovski's Creative Director. An opportunity for me to visit her office, which once belonged to Madame Geoffrin, famous for receiving intellectuals, politicians and artists of her time, especially Diderot and Voltaire who used to come to her Monday diners – how inspiring this must be! I got to discover the new collection as well as the haute couture creations.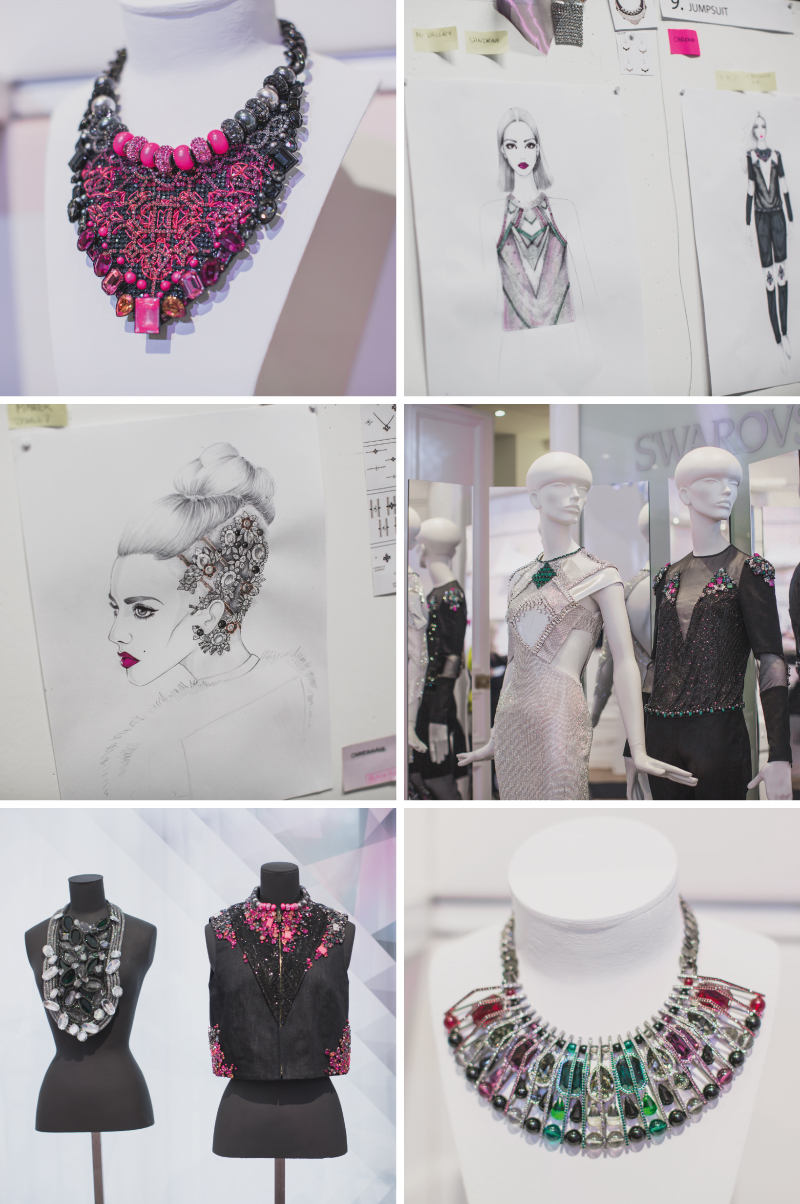 I thought I was going to attend a ready-to-wear traditional press presentation : clothes presented on hanging rails and mannequins. Perfect to discover the new collection but no so perfect for taking pictures.
And yet I couldn't imagine missing Tara Jarmon's presentation since it's one of my favorite brands! However, I had decided not to take pictures, and I didn't bring my camera, for once, because it's so heavy to carry!
When I got there : WOW! What a nice surprise! A modern fairy tale winter setting, some gorgeous animals, and of course a great collection… I had no choice but to borrow Emilie's camera so I could share a few pictures with you! It wasn't easy because it wasn't my material, but you'll get the atmosphere…

It was my first Issey Miyake's runway! With a backstage pass!
An opportunity for me to admire Alex Box's wonderful work; he's such a talented make up artist!
I'm a great admirer of Issey Miyake's unique work and of the Pleats Please, his signature (I also love the perfume of the same name!). It was the first time I attended one of his shows, and the atmosphere and the staging were fantastic! I hope my pictures will do justice do this beautiful journey in Issey Miyake's universe…

It was the first time I had a backstage pass but no invitation to the show itself! So frustrating! But it was still better than nothing to be able to witness the preparations of one of Paris Fashion geniuses' show.
I can't show you the collection but I tried to make nice portraits.
Seeing the gorgeous Miranda Kerr's with her beautiful eyes and dimple through my camera will remain one of the most beautiful moments of my backstage experience. She is so pretty. <3

I'm always pleasantly surprised by JCDC's shows, but I particularly enjoyed the A/W 2014 one : the faces, the vibrant colors (this bubble gum pink!), the cuts… A great collection!

It was the first time I got the precious ticket to one of the most awaited shows : KENZO!
Textures, neon colors clashing with black, and true volumes : another fascinating collection and another big success for Humberto Leon and Carol Lim!

I'm particularly fond of Elie Saab because it was the first catwalk I attended, a few years ago (Haute Couture and with a backstage pass). Seeing these magical dresses for modern princesses is like a dream come true!
I loved the colors of the collection : deep red/burgundy, powder pink/mauve, peacock blue/emerald green, sometimes with black shading.
Voilà!
I'm done telling you about AW 2014 Paris Fashion Week!
Hope you enjoyed it!
If you don't remember my previous articles, click here :
And don't forget to tell me how you would like me to proceed for the upcoming NYFW and PFW! Thanks.
© PHOTOS : paulinefashionblog.com
Leave a comment
In the same category :