29 September 2014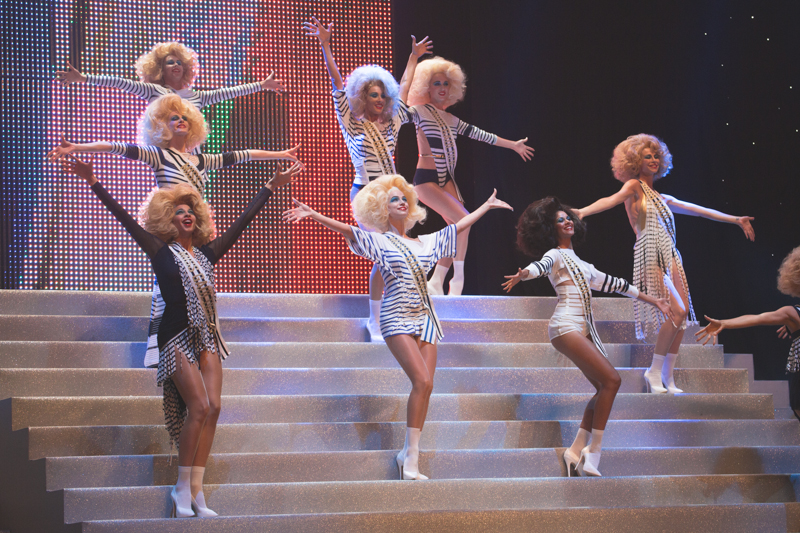 Un post un peu spécial aujourd'hui. Je suis un peu débordée avec la Fashion Week parisienne mais je voulais vous parler de cet évènement le plus rapidement possible.
Samedi soir avait lieu au Grand Rex à Paris le dernier défilé Prêt-à-Porter de Jean Paul Gaultier (il y a un peu plus de deux semaines, Jean Paul Gaultier a annoncé qu'il abandonnait le prêt-à-porter pour se consacrer à la Haute-Couture et au Parfum.).
Nous étions prévenus dès la réception de l'invitation (une banderole de Miss) : nous allions assister à l'élection de Miss Jean Paul Gaultier France et Outre-mer 2015.
J'ai une chance folle d'avoir pu assister à ce fabuleux show, et je suis très heureuse de le partager avec vous avec mes photos !
–
Lever de rideau sur une chorégraphie des Miss Marinière, pour accueillir le présentateur de ce show, Alex Taylor.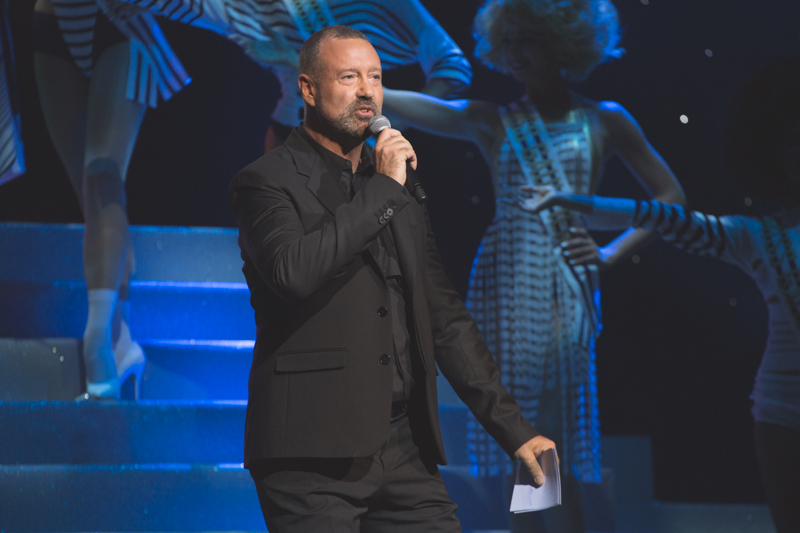 Rossy de Palma aka Madame de Palmay, présidente du Comité des Miss JPG, en tailleur et chapeau noir & blanc, nous a présenté la 2ème catégorie de Miss qui vous rappelleront sûrement quelqu'un !
Après le strip-tease de Rossy de Plama, autre catégorie : Les Miss Tour de France, avec un hommage à Yvette Horner, qui était d'ailleurs présente parmi les invités. Des vêtements sporty, du bleu, du blanc, du rouge, mais aussi du maillot jaune, des inscriptions façon dossards et des logos détournés en imprimés.
Ensuite, place aux Miss Météo et leurs bottes en caoutchouc (pour patauger dans la gadoue) !
Énorme succès et bel hommage en humour : les Miss Rédactrice de Mode !
Grace Coddington, de Vogue US, qui était parmi les invités également (d'ailleurs, je suis en train de lire son autobiographie, c'est passionnant, je vous la conseille : dispo ICI chez UO).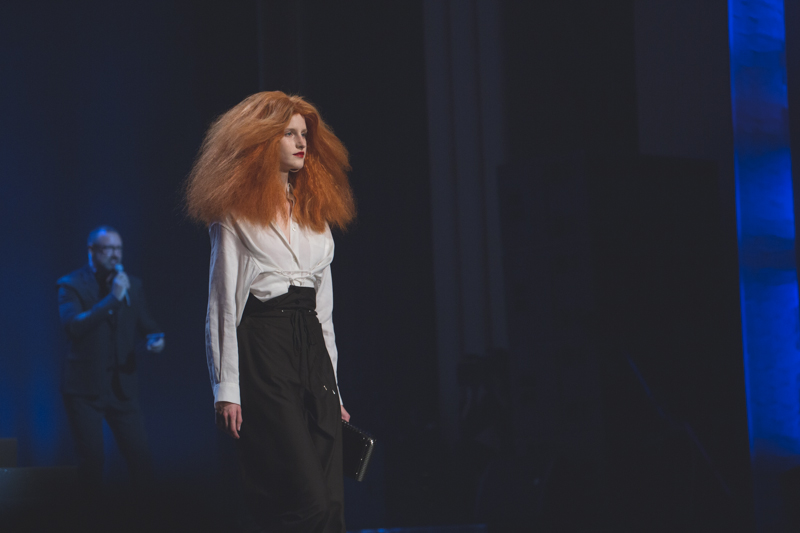 Babeth Djian, de Numero.
Emmanuelle Alt de Vogue Paris.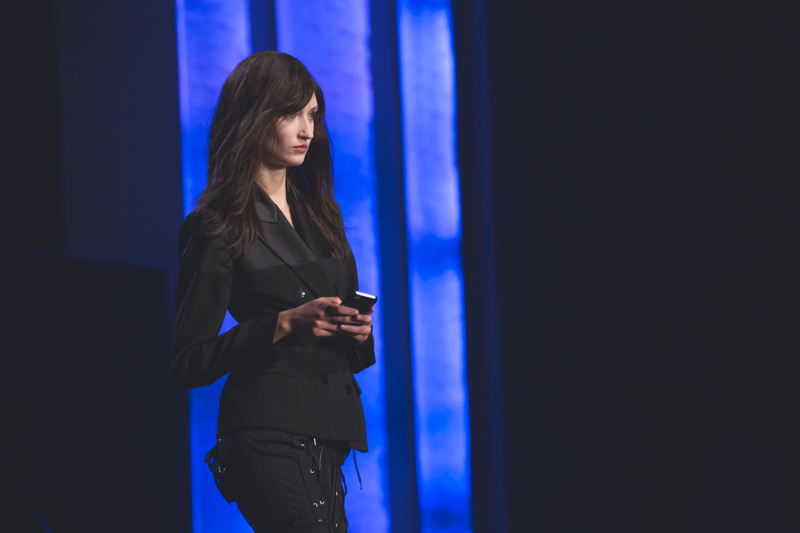 Franca Sozzani de Vogue Italia.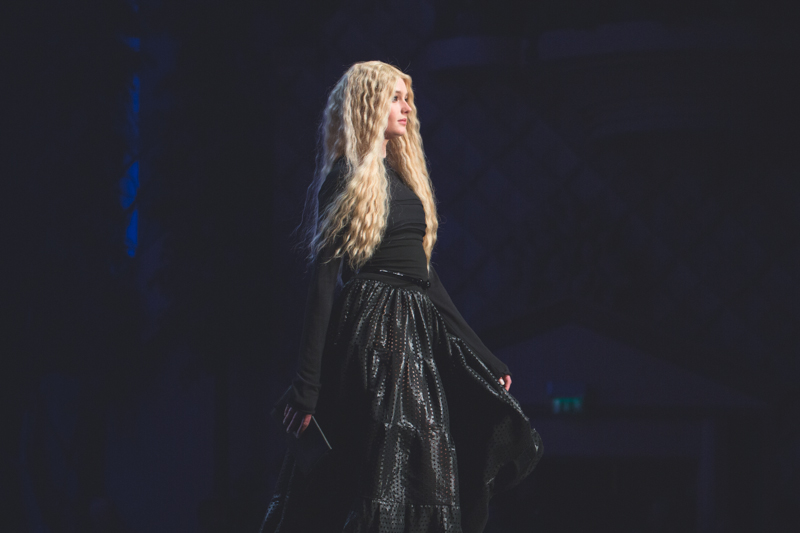 Carine Roitfeld ♥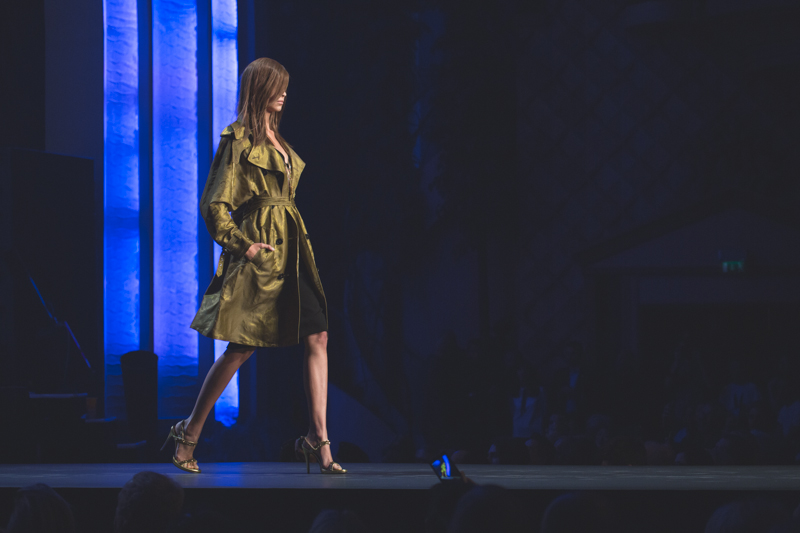 Suzy Menkes bien sûr aussi !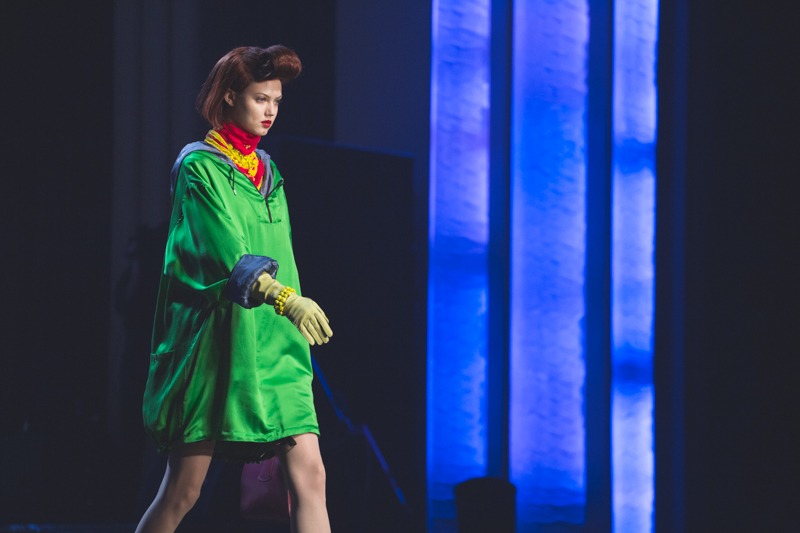 Les Miss WAG (Wives and Girlfriends = Femme de footballeur), avec la belle Karlie Kloss pour ouvrir cette catégorie avec les Spice Girls en fond sonore.
Jean Paul Gaultier est coutumier de faire défiler des modèles qui sortent des sentiers battus et il l'a fait une fois de plus avec les superbes Miss Vintage.
Place aux Miss Smoking.
Enfin, dernière catégorie plutôt inattendue : les Miss Lucha Libre qui ont défilé masquées !!
Retour de Madame de Palmay pour le verdict….. Qui sera couronnée Miss Jean Paul Gaultier ?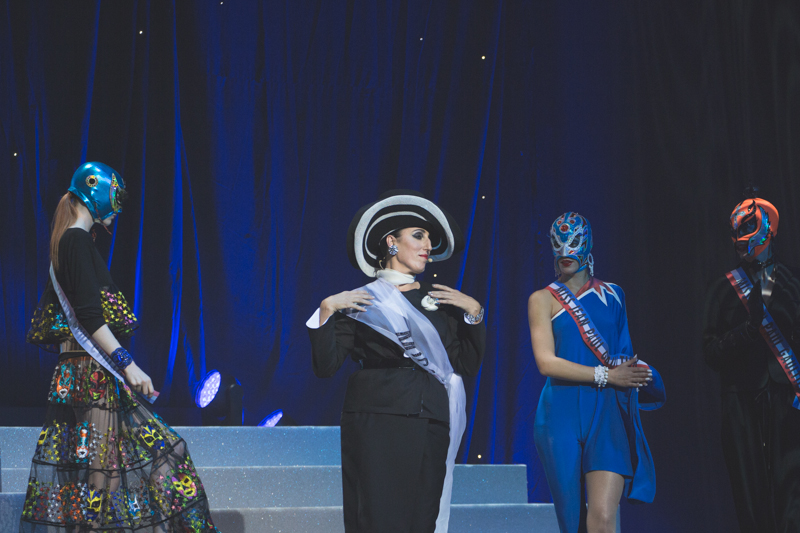 Les deux finalistes sont Coco Rocha et Anna Cleveland (la fille de Pat Cleveland, célèbre modèle des sixties).
Coco Rocha est nommée Miss Jean Paul Gaultier, feint avec grâce un évanouissement au moment de la remise de la couronne (par Miss France 2009, Chloé Mortaud).
Et Monsieur Gaultier s'élance pour son dernier salut sur un podium prêt-à-porter alors que tout le monde (enfin, moi en tout cas, mais je ne pense pas être la seule) a la gorge serrée par l'émotion de cet "Happy Ending".
Il y a des confettis, de la musique, il y a de la joie, de la bonne humeur, de l'amour, comme toujours avec Gaultier. Mais quand le rideau tombe, on a du mal réaliser que ça y est. Désormais, son génie ne s'exercera plus que dans la Haute Couture, domaine dans lequel il excelle, et dans le parfum.
Ce n'est pas vraiment triste. Mais ça fera un vide.
J'ai eu la chance d'assister à 3 shows Ready-to-wear Jean Paul Gaultier. C'est pas beaucoup sur 38 ans de shows ! Mais à chaque fois, c'était comme une bouffée de fraîcheur dans la fashion week, des spectacles à part entières, des voyages un peu fous dans son imaginaire, il y avait beaucoup d'humour, de dérision. J'aime ses références à la culture populaire, qui sortent de l'élitisme habituel et qui démocratisent le concept du défilé de mode. Hier soir par exemple, je me suis vraiment revue gamine, devant la télé, avec Jean Pierre Foucault et les Miss qui défilent sur les escaliers pailletés… J'aime aussi, plus que tout, sa manière de briser les codes, de faire de la provoc, jamais gratuite, de faire défiler toutes sortes de beautés, d'amuser son public, autant qu'il s'amuse lui.
C'est sûrement ça, le secret de l'enfant terrible.
Bravo Monsieur Gaultier, et merci ♥
–
La vidéo du défilé dans son intégralité est en ligne sur jeanpaulgaultier.com.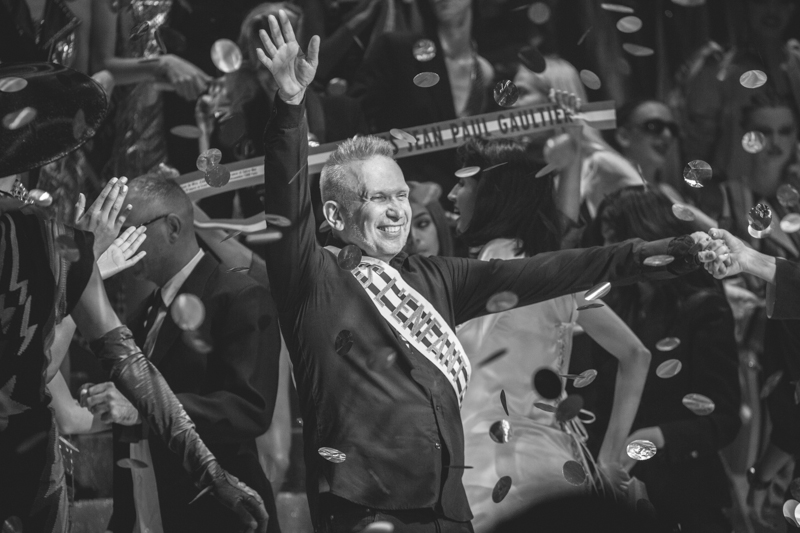 Leave a comment
In the same category :
24 September 2014
When Chloe asked me to imagine a story around the new fragrance LOVE STORY, I accepted immediately. The universe of the brand and the atmosphere of this new perfume – Clémence Poesy in a beautiful video filmed in Paris by Mélanie Laurent with the lovely voice of Vanessa Paradis in the background – were very inspiring for me to illustrate in my own way a moment of this love story.
I really liked the story of this perfume : a modern fairy tale, a beautiful, free, mysterious woman who loves to love, a night in Paris.
The scent itself, in its precious padlock bottle, also tells us the story of an encounter : the one of sensual orange blossom with the delicate jasmine stephanotis – the flower of happiness.
Every love story is punctuated with inevitable steps that will be remembered as the most poetic memories of the beginning of a relationship. I was asked to illustrate the first phone call, as you might have guessed.
I imagined Chloe the day after this beautiful night in Paris as seen in the movie (here). She's having a hard time focusing on her book. The words are scrolling before her eyes but don't reach her mind, because she can't stop thinking of the night before and its flood of happiness and love. She's hoping for him to call, but she has doubts. Indeed, she is the one who left in the early morning, without notice, probably to keep forever the magic of this night in Paris, but also to keep a little mystery, crucial in the game of seduction. She remembers this funny bicycle ride, his look, the carousel, her hand in his, the karaoke, their fits of laughter, the Pont des Arts and the padlocks. Finally, while she's having sweet dreams, the telephone rings.
I hope you'll like the pictures as much as we liked imagining this story.
Now it's your turn to play! Send a picture illustrating a key moment of a LOVE STORY with the hashtag #chloeLOVESTORY ! The most beautiful photos will be shared on Chloe – Love Story tumblr.
-
I'm wearing : a DVF silk blouse and a &other stories skirt.
Manicure : Thank you PAINTBOX! I'm wearing the Midas Touch design in gold pink (Essie), Nude (Zoya) and Yellow Gold (Zoya). Thank you Natalia and Britta Paintbox.com
Shooting : I had many troubles finding a place to shoot this story, and I was finally rescued by AirBnB and  more especially Eugena and her lovely room in Harlem with a mosquito nest that was perfect for the romantic and soft atmosphere I wanted !
And of course, I want to say thank you to Romain, my Love Story.
Leave a comment
In the same category :