16 April 2014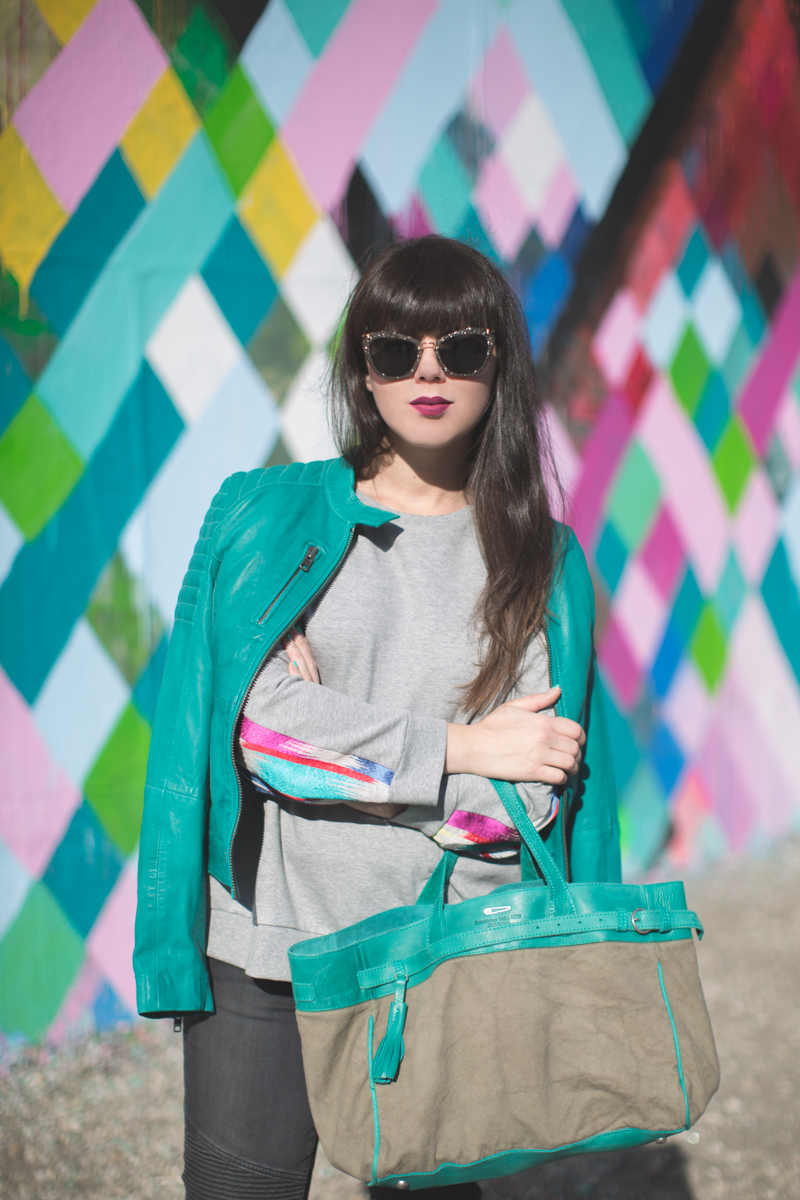 Comme promis, on se retrouve aujourd'hui avec la 2ème partie du concours IKKS ! Un nouveau bon d'achat de 200€ à gagner sur le blog, et un 2ème soldier à gagner sur instagram à partir de 18h ce soir, toujours pour fêter les 5 ans de mon blog en ce mois d'avril.
Mais d'abord, quelques mots sur mon look du jour quand même ; ) Je porte un joli slim IKKS et un blouson en cuir turquoise IKKS dont je suis complètement dingue ! Il faisait super chaud quand on a fait les photos, en plein soleil, alors on ne le voit pas beaucoup, mais je vous le remontrerai mieux bientôt, promis. Vous reconnaîtrez le fameux sac SOLDIER, en version toile et cuir turquoise après la version sequins d'hier que vous pouvez gagner ICI ! J'adore cette déclinaison colorée assortie à mon blouson.
Je porte aussi un sweat MARGAUX LONNBERG. Je vous montrais le Teddy la semaine dernière ici, voici mon 2ème craquage sur sa jolie collection printemps-été. J'adore le dos brodé coloré de ce sweat oversize.
Que ce soit le sweat ou le blouson, quand je les ai reçus, j'ai tout de suite pensé au magnifique "Bowery Mural", à l'angle avec Houston Street (que je vous avais déjà montré ici dans une de ses versions précédentes – il change tous les 3 mois). Je suis obsédée par ce mur de Maya Hayuk depuis que je suis passée devant alors qu'elle était en plein travail. Le mur était juste turquoise quadrillé rose. Quelques jours plus tard… WOW ! Quelle explosion de couleurs ! Depuis, je passe devant aussi souvent que je le peux. L'autre jour, j'ai volontairement fait un détour de 45minutes à pied juste pour le voir sous la pluie. C'était magnifique aussi, avec les pixels de couleurs qui se reflétaient dans les flaques d'eau comme si le sol était lui aussi multicolore.
Par contre, shooter devant cette œuvre éphémère le premier samedi ensoleillé du printemps, c'était mission impossible ! En effet, il y avait en permanence une demi-douzaine de personnes en train de faire des selfies – et peut-être même d'autres blogueuses en train de shooter leur look du jour, qui sait ? Pas de plan large qui permette de voir le mur en entier donc, vous m'en excuserez ; )
On passe aux concours ?
LE CONCOURS SUR INSTAGRAM :
Le sac SOLDIER sequins est à gagner depuis 18h hier et jusqu'à demain 23h58 ICI (plus d'infos ici) !
Pour le turquoise présenté sur ces photos : RDV à 18h ce soir sur instagram, pour un concours express de 48h !
LE CONCOURS SUR LE BLOG :
Pour gagner le 2ème bon d'achat de 200€ valable sur l'eshop IKKS, il vous suffit de commenter cet article en me disant, par exemple, ce que vous aimeriez acheter si vous aviez la chance de gagner. Si vous avez joué sur l'autre article, vous pouvez à nouveau tenter votre chance ici.
Vous avez jusqu'à vendredi soir 23h58 pour participer ! La gagnante sera tirée au sort et les résultats seront annoncés ICI !
Je vous donne rendez-vous à 18h pour un deuxième soldier à gagner sur instagram.

J'espère que ces photos vous plairont autant que je suis amoureuse de ce mur coloré…
Bonne chance à toutes pour ce 2ème bon d'achat et à très vite !
–
Blouson en cuir turquoise IKKS – Slim IKKS - Sac Soldier IKKS – Sweat brodé MARGAUX LONNBERG – Lunettes de soleil MIU MIU – Ballerines REPETTO – Rouge à lèvres STILA liquid lipstick STAY ALL DAY coloris ARIA 04 (infos ici)
Leave a comment
In the same category :
15 April 2014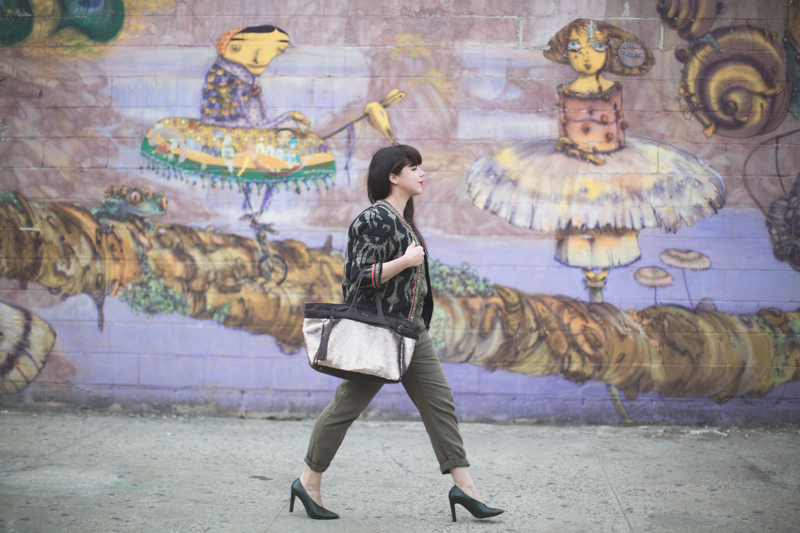 Today, first part of the third giveaway of the special series "My blog wouldn't be five years old if it wasn't for you, so I'm going to spoil you to celebrate".
This week, IKKS is my ally!
You know how much I love IKKS. I love their elegant cuts, and their very urban collections of beautiful basics with touches of rock, perfect for our hyperactive way of life. THE "casual chic". And most of all, it's one of the first French brand that trusted me. What more natural, then, than asking them to spoil you for your five years of loyalty?
For the beginning of the week, IKKS is going to make us see double!
2 IKKS outfits, 2 gift cards to win on the blog and 2 SOLDIER bags to win on Instagram!
First outfit of the week with this lovely khaki jumpsuit, one of my favorite pieces of IKKS Spring/Summer collection. The picture was taken in front of a beautiful Os Gemeos wall in Coney Island. I'm wearing it with a PYRUS London jacket, a brand I discovered on YoungBritishDesigners (this ikat bomber reminds us of Isabel Marant, doesn't it?) and a pretty SOLDIER sequin bag.
The SOLDIER is one of IKKS it-bags. Maybe you remember that last year, I was one of the bloggers chosen to design a new version of this bag? Remember : my article here, almost a year ago! It was Collage Vintage who won with her "sailor" version, as well as my dear Zoe, whose "neon camo" became reality.
GIVEAWAY ON INSTAGRAM
It's on Instagram that you can win 2 SOLDIER bags! For the first one, meet me at 6 PM tonight on Instagram for a 48 hours giveaway that will make you win this gorgeous brown leather and golden sequins SOLDIER.
GIVEAWAY ON THE BLOG
To win a 200€ gift card to use on IKKS eshop, you just need to leave a comment below, telling me, for instance, what you would like to buy if you win.
You can play until Thursday 11:59 PM. The winner will be chosen randomly and the results will be announced HERE.
I'll meet you same time tomorrow for a second SOLDIER to win on Instagram and a second gift card to win by leaving a comment below a second IKKS outfit!
I hope you'll like this outfit/giveaway… Good luck to everyone and see you tomorrow!
–
Jumpsuit IKKS – Soldier bag IKKS – PYRUS London bomber jacket via Young British Designers – Shoes : Les Prairies de Paris
Leave a comment
In the same category :