18 December 2014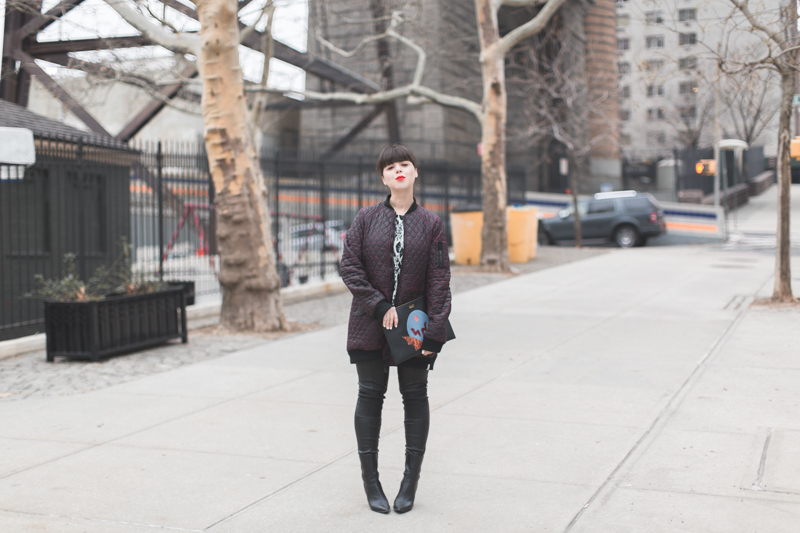 Gotham.
Le New York de Batman notamment, mais aussi le titre de la nouvelle série à laquelle je suis accro, en partie parce que les plans sur la ville montrent très souvent le Queensboro Bridge, que je vois depuis mon appartement au 18ème étage. On y voit même souvent mon building !
En ce moment, avec la lumière basse hivernale, la ville ressemble vraiment à un décor de film sombre. Une magie un peu noire et mystérieuse…
Du coup, aujourd'hui, je vous propose un mix de photos récentes de mon "neighborhood", avec des vues depuis le téléphérique qui va à Roosevelt Island dont je vous parlais déjà ici et un look inspiration super-héroïne moderne new-yorkaise avec ma jolie pochette en cuir de la collection Super Stella Heroes de Stella McCartney dont je suis complètement dingue (comme une envie de collectionner ces sacs super-héros !!), un slim en cuir Tommy Hilfiger dont nous parlerons mieux très vite, ma doudoune Gertrude matelassée losange Isadora coloris Lipstick dont les croisillons me rappellent ceux du Queensboro Bridge ou les escaliers de secours des façades new-yorkaises, et un ptit top Piperlime imprimé sur lequel j'ai craqué il y a déjà longtemps lors d'un session shopping à SoHo.
J'en profite pour vous rappeler – sans pression ; ) – que si ma doudoune vous plaît, vous pouvez gagner la doudoune Gertrude de votre choix en laissant un commentaire sur le blog sur cet article ou par regram ici ou ici sur insta.
J'espère que ces photos vous plairont !
À très vite !
–
Je porte : Doudoune Isadora coloris Lipstick GERTRUDE – Slim en cuir TOMMY HILFIGER – Pochette STELLA MCCARTNEY – Top PIPERLIME COLLECTION – Boots MARKS AND SPENCER
Leave a comment
In the same category :
17 December 2014
Sorry, this entry is only available in Français.
Leave a comment
In the same category :