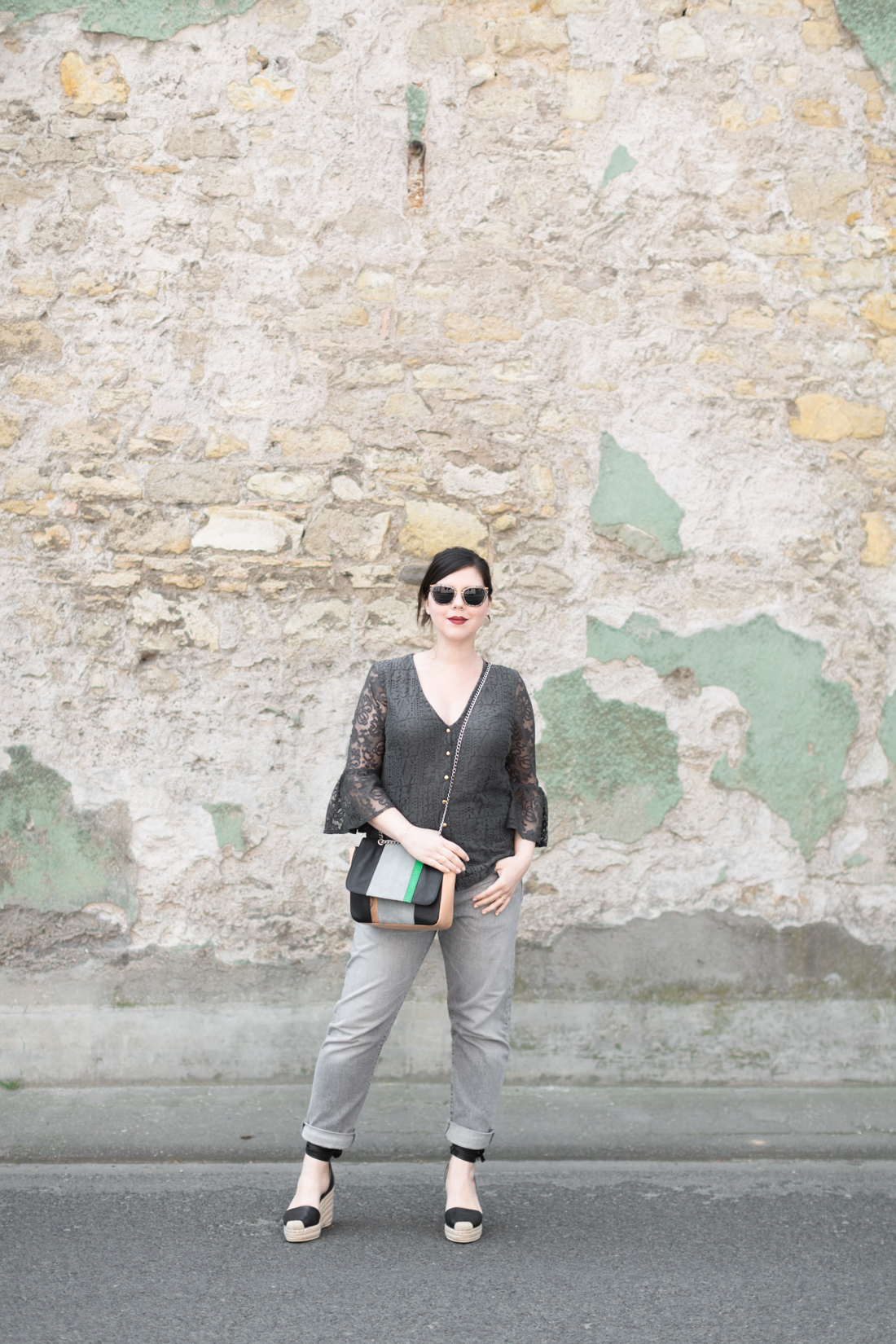 I hope you had a nice weekend! Let's start the week with an outfit we shot just next to my home in Mainz, in front of a wall I had noticed a while ago, which you'll probably see from time to time since I found it to be very photogenic.
I'm wearing my grey lace Goliath blouse from Heimstone. You've seen it before but you didn't really like the look, so I wanted to give it another chance, because I love this blouse! I'm wearing it with a grey 501, a pair of black leather platform espadrilles (Raye on Revolve) that I love so much and my eternal Miu Miu glitter sunglasses.
So, what do you think this time? Will I convince you or not?
As for the handbag, it was a collaboration I made with Emma, the designer of Bleecker Blues, to personalize her best seller, the Brooke Bag. I'm really happy with the result ; this handbag is perfect: soft leather, worn over the shoulder, ideal volume, neither too big or too small. I chose a natural and black leather base, a grey suede strip in the middle, and some grey and camel small python stripes. I really like the asymmetrical aspect of the bag, and the colorful, graphic touch it gives to any basic outfit.
I hope you'll like it! If so, go here. And please tell me if you intend to order it or not.
We'll talk about this bag again soon!
Have a nice week!
–
HEIMSTONE Goliath grey lace blouse – BLEECKER BLUES x PAULINE Brooke Bag– LEVIS 501 grey jeans – Espadrilles compensées en cuir RAYE via REVOLVE CLOTHING platform leather espadrilles – MIU MIU sunglasses