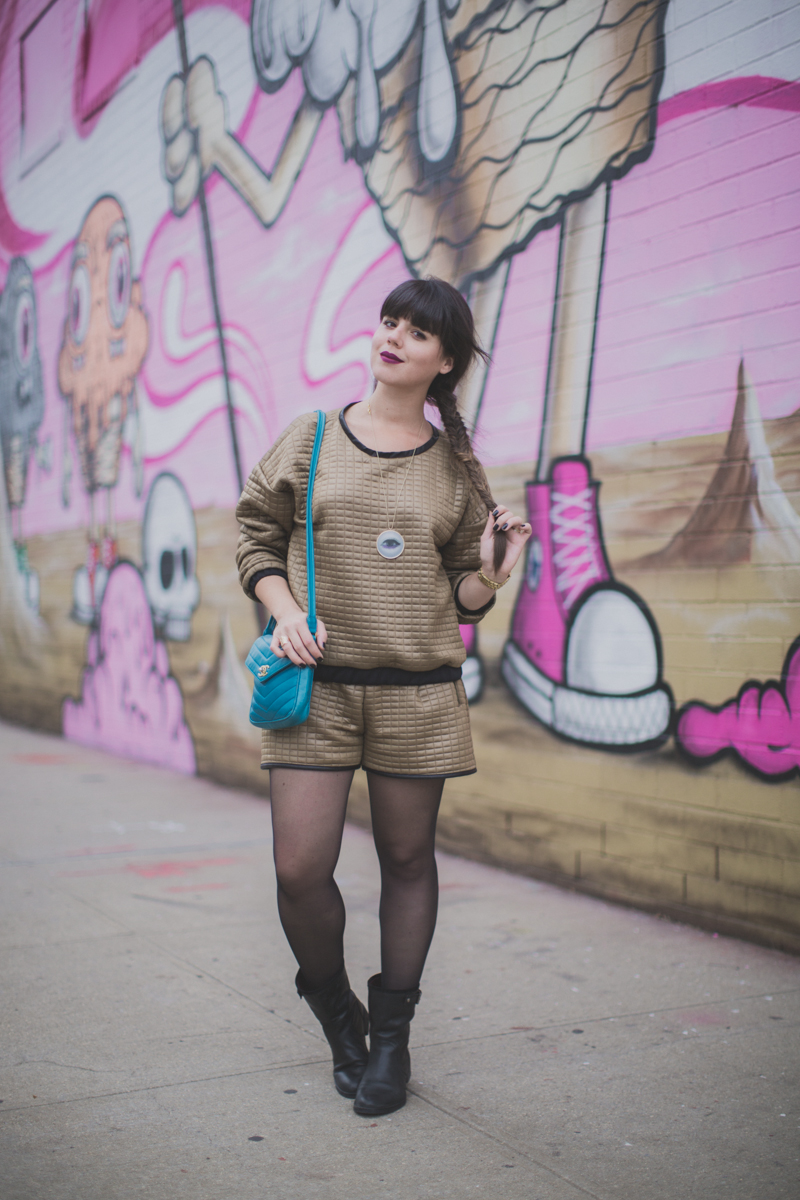 Ok, here we go again with New York beautiful street art! I gotta say, there are many opportunities! We often come across colorful and gorgeous walls but sometimes the colors of the graffitis just don't match my outfits! Some other times, though, we get more lucky, and my clothes just perfectly match the set! It happened recently in Dumbo with the Rainbow wall, then on Bowery Street with the very pop art one and my red coat, and again with my mustard sweater on the yellow and orange El Seed wall.
I got lucky again today! Williamsburg, just before our Sunday brunch : a Buff Monster candy pink wall! I love these little ice cream cones monsters! Lovely coincidence : the colors of my clothes were perfect for this very recent "fresco" that I hadn't seen yet.
I'm wearing something you might have already seen on other blogs since we all loved Camille Over the Rainbow capsule collection for Pimkie. A very successful and modern collection, with nice basics – I love the white oversize coat, the boiled wool perfecto and the quilted grey sweater with zippers that I will show you very soon ; but also some more edgy pieces such as the "neoprene like" shorts and sweat with a faux-leather black edging. All this at Pimkie prices! Congratulations to you Camille, hats off!
On my feet (I wish I was wearing a pair of pink Converse – that would have been great to match the ice-cream monster behind me!), my IKKS boots once again. I promise you I'll try to wear something else than these boots and the River Island stilettos that you've been seeing in three articles in a row. Obsessed, me? Around my neck, a lovely hologram blinking necklace by Kika Mishto (a big kiss to you, Rebecc!).
You may also have noticed my pretty braid. Well, my hair hasn't grown during the night, no! I'm wearing the Franck Provost hair extension clips that you can buy at the supermarket. I love these strands that can be clipped so easily to add length and volume to your hair with a very natural result (here is my personal tuto on how to put them on).  Next time I'll show you how it looks without the braid.
I hope you'll like to begin this week with pink and khaki!
Seeya!
Sweater and shorts : Camille Over the Rainbow pour PIMKIE – holographic necklace : KIKA MISHTO – Boots IKKS – bag : CHANEL vintage – watch : NIXON – Lipstick : STILA liquid lipstick STAY ALL DAY shade ARIA 04 (check my article here)