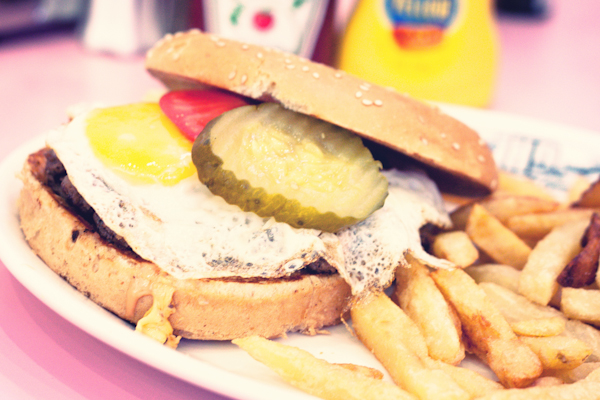 Attention FLASH INFO de la plus haute importance qui devrait ravir mes lectrices lilloises 🙂
HD Diner, le célèbre restaurant parisien spécialisé dans les burgers à l'américaine vient d'inaugurer sa nouvelle adresse : rue royale à
Lille !
Je suis tombée dessus complètement par hasard, lors d'une fringale nocturne de burger avec une copine… Après avoir constaté que notre
adresse préférée La Dinette était fermée pour les vacances et que la terrasse du Bun's Bazaar était blindée, on a marché quelques mètres, en se
disant qu'il nous restait encore la possibilité du Berliner ou du Basilic Café. Et là, on a cru halluciner en tombant sur le
nouveau HD DINER – BACK TO THE FIFTIES, ouvert depuis 2 semaines !!
Et nous sommes reparties le bidou explosé et le sourire aux lèvres ! D'après les commentaires que j'ai recueillis sur Instagram,
apparemment, il y a encore quelques jours c'était pas terrible du tout et certaines personnes ont été vachement déçues… Je ne sais pas trop quoi en penser, si ce n'est que peut-être, il fallait
un peu de temps à la cuisine et à l'équipe de serveurs pour se caler ? En tout cas, samedi soir, avec Marion on s'est régalées !
Et puisque mon sens du sacrifice n'a d'égal que ma gourmandise, j'y suis retournée dès le lendemain pour partager ma découverte avec Laure
et prendre quelques photos pour vous annoncer la bonne nouvelle 🙂

Dépêchez-vous d'aller vous sustenter avec le très vaste choix de burgers, bagels, hot-dogs, brunchs, milkshakes, cheesecakes et autres sodas
US, en écoutant Elvis ou Johnny Cash ! Parce si on en croit les adresses parisiennes… C'est le genre d'endroit rapidement victime de son succès : il ne faudra pas longtemps pour que la nouvelle
se propage parmi les burger addicts lillois et bientôt il faudra sûrement la patience de faire la queue une heure devant pour y siroter un milkshake aux oreos ou y dévorer un colorado bruger
!
J'en profite pour vous montrer mes nouvelles lunettes de soleil Prada (sur Forzieri) et ma nouvelle tunique COOKIE ANN imprimée nuages roses et licornes !
Rendez-vous demain pour un look !