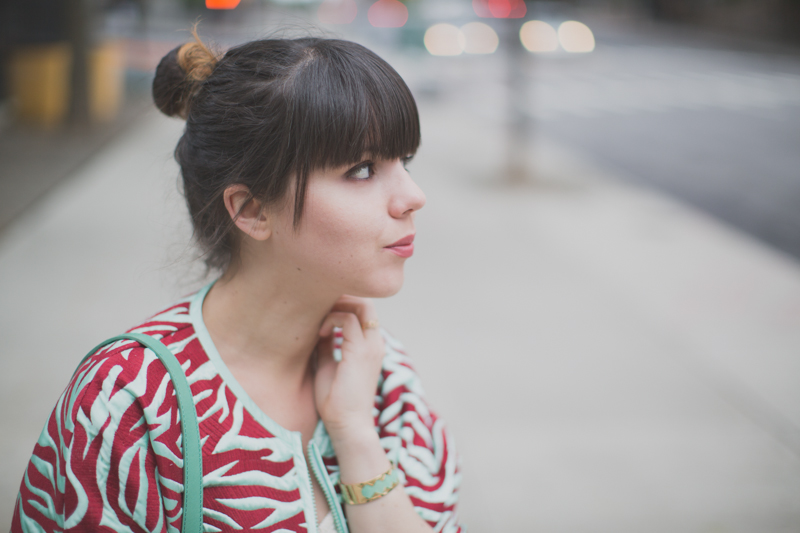 A quick post shooted between two heavy downpours – I was used to « draches [1] » in Lille and I thought they were the worst… until I discovered NYC sudden storms !
I'm wearing a Levi's, a pair of pretty mint Converse, a zebra print Essentiel jacket, a small Rockmafia leather handbag, and a pretty bracelet from Anne Thomas found on AUTRESHOP (20% discount with the code PAULINE !).
A simple look that doesn't need a lot of chit-chatting, but I have to say it's a good excuse for me to thank you !
THANK YOU soooo much for your encouragements and comments on the last article ! You can't imagine how moved I was !
By the way, let me remind you to vote for my Urban Amazone handbag right HERE (and HERE is the last article for those of you who missed it). I want you to know that even if I really really want to win this tough competition and see my bag in every IKKS store around Europe, I feel like I've won already : your comments are worth all the bags of the world !!
I was so touched to see that revealing my small anxieties made you grab your keyboard to reassure me. I was very moved that some of my readers who have been faithful for years finally broke the silence to leave me a note. I really enjoyed the fact that some of you replied to my very long article with a very long comment ! It took me a very very long time but I wrote back to each of you ! That's the least I could do 🙂
THANK YOU THANK YOU THANK YOU !! <3
And do not forget….
=> VOTE FOR MY BAG DESIGN HERE <= (explanations HERE)
---
[1] « drache » is a word used in the north of France for sudden rain showers (translator note)
ESSENTIEL Jacket – ROSEANNA Top via LA NOUVELLE VAGUE –  ANNE THOMAS bangle via AUTRESHOP – ROCKMAFIA leather bag (SHOPNEXTDOOR) – CONVERSE via Dashoes.fr – ARTICLE 22 PEACEBOMB aluminium bangle (We'll talk about that more soon !) — NAILS : CHANEL 539 June