After many years living as a White Musk from Body Shop addict, after a few months smelling the Prada Infusion d'iris, I was having a nice relationship with Chloé, met
around a christmas tree in 2008.
But yesterday, as I was bargain hunting during my lunch break, I felt in love with Miss Dior Chérie !
Sorry Chloé… I know you knew it would happen, eventually… Hope we can still be friends… I'm sure I'll come back to you sometimes… I still like you but I prefer my brand new perfume, with
its popcorn touch and its wonderful "LIMITED EDITION PRESTIGE JEWEL BOX" please !!!

Après plusieurs années d'addiction à White Musk de Body Shop, après quelques mois parfumée à l'infusion d'iris de Prada, j'avais une relation sympa avec Chloé, que
j'avais rencontré au pied d'un sapin de Noël en 2008.
Mais, hier, alors que j'étais en pleine chasse aux bonnes affaires pendant ma pause déjeuner, j'ai eu un coup de foudre pour Miss Dior Chérie ! Désolée Chloé… Tu savais que ça finirait par
arriver… On peut peut-être rester amies… Je suis sûre que je reviendrai vers toi de temps à autres… Je t'aime toujours bien mais je préfère mon flambant neuf Miss Dior Chérie,
avec sa note de popcorn et sa magnifique "Boîte à bijoux, édition limitée Prestige" !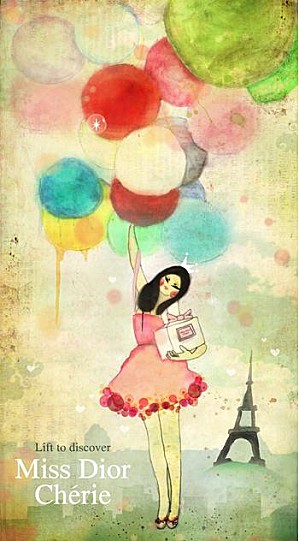 Le coffret Prestige Edition Limitée Miss Dior Chérie, avec son miroir magnétique, son petit tiroir, le tout en simili cuir rose pâle poudré estampillé DIOR Parfums.
La crème soufflée parfumée pour le corps et le flacon d'eau de parfum 100 mL.
La magnifique pub de Sofia COPPOLA et son adaptation par deviantart.com
(et mon pauvre petit flacon abandonné de Chloé qui se morfond dans le tiroir… !!!)