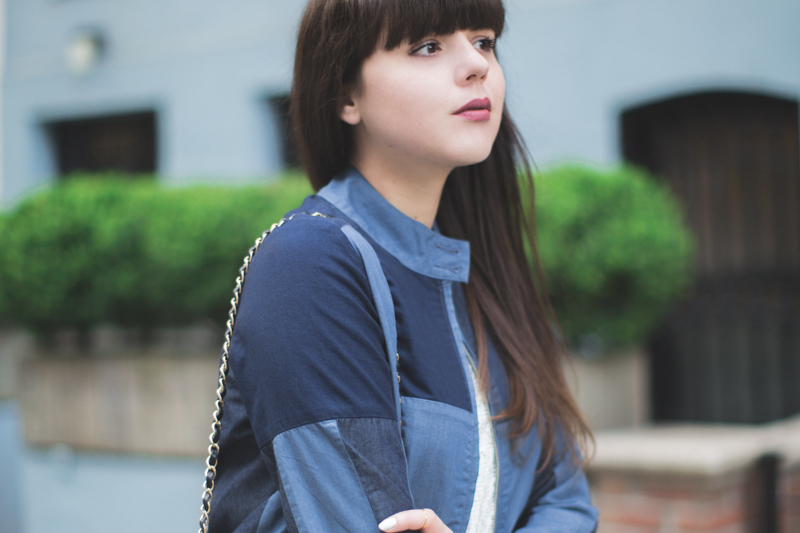 Maybe you remember that, during New York Fashion Week, I had really loved Tommy Hilfiger show and it made me want to know the brand better, to rediscover it.
New York walls are covered with ads from the beautiful capsule collection ZOOEY & TOMMY, but for the moment, I've chosen to be True to the blue. For this summer collection, Tommy Hilfiger revisits denim, chambray and indigo, taking inspiration from the brand's thirty years of archives. The result? Chambray shirts, retro dungarees, denim shorts, timeless and classical pieces celebrating the brand's heritage with a modern twist (you can see the collection here and here). There is also a giveaway on Instagram : to play, you just need to send an old picture of you wearing denim, using the hashtag #throwbackdenim. You can win a trip to California! (personal message : Mom, if you find the picture of me with my denim dungaree, my bunches and my red round glasses, I will enter the contest!).
I had a crush on this patchwork bomber jacket, that I'm wearing with one of my favorite Mom jeans, a short sweater, a pair of superga and my beloved navy Chanel. An elegant, sportswear style, a bit retro but not too much, perfect for spring transition.
I hope you'll like my outfit. See you soon!
—
BLOUSON PATCHWORK DENIM TRUE TO THE BLUE SPORTSWEAR TOMMY HILFIGER – MOM Jeans ASOS – Pull ASOS – Sac CHANEL vintage – Tennis en toile SUPERGA