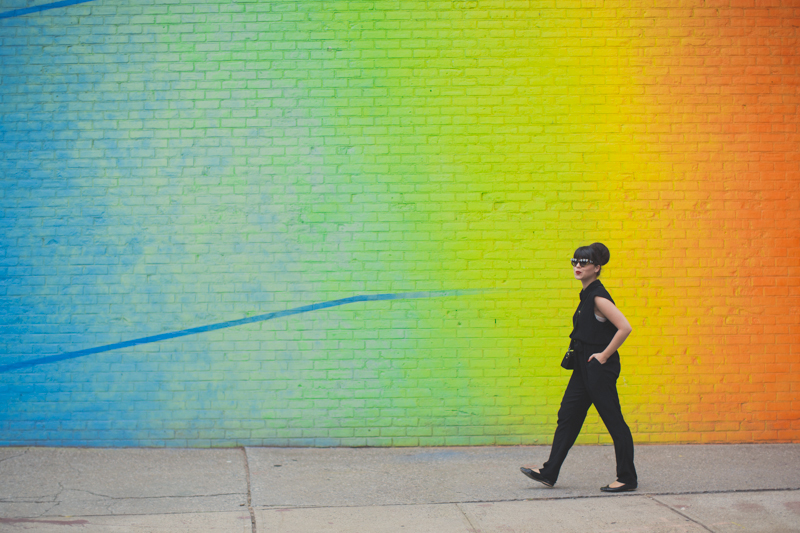 A quick little article to show you my three favorites of the moment :
–       my small BURBERRY studded leather bag. I wore it during the whole New York Fashion Week and I love it ! It's really small and yet I can put everything I absolutely need in it : keys, Iphone, lipstick, purse. I like walking with a small bag on my shoulder that won't bother me. Good news : in order to celebrate Paris Fashion Week, MONNIER FRERES is offering you 20% OFF with the code FWEEK20FR until Monday !
–       my flower Prada sunglasses. I mean : no need to say anything ! I've been looking for a pair for a while, and they finally crossed my path, so here they are !
–       my SEE BY CHLOE jumpsuit. So easy to wear (except when you need to pee!), beautiful, comfortable : I love it ! You've already seen it in my Mademoiselle Plume outfits, now there is it for good on the blog !
By the way, I used the ASOS Oversize Bun – outstanding, as always.
We took these pictures last night in Brooklyn – this wall is just perfect, I'm so happy with the result ! Hope you'll like it too !
Have a nice week-end.
SEE BY CHLOE Playsuit via MONSHOWROOM – Studded handbag BURBERRY via MONNIER FRERES (-20% if you use the discount code FWEEK20FR !) – PRADA Poeme Irregular Flowers sunglasses – ASOS Oversize Bun –  ANNIEL Ballet flats via Sarenza