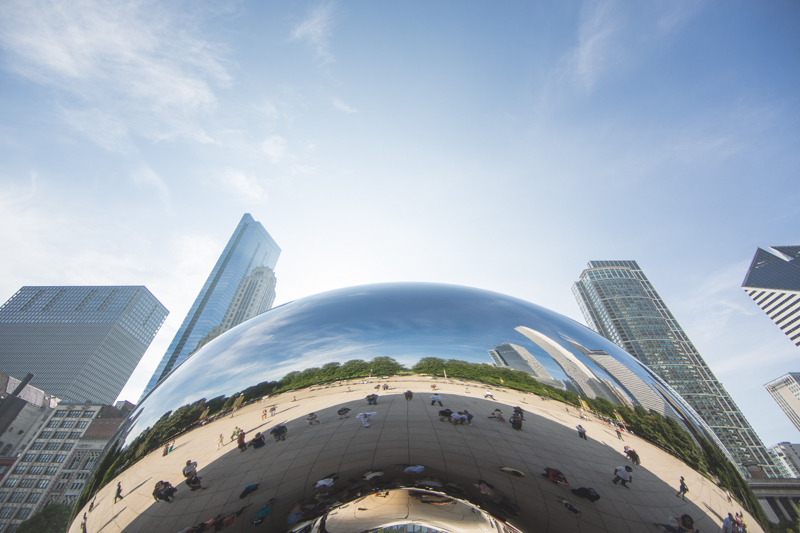 It took a rainy Saturday for me to finally find the time to dive into the pictures from our weekend in Chicago!
I always have some delayed articles in my drawers (the end of NY Fashion Week, the end of my Australian trip with my first flight in a balloon and the underwater pictures of the Great Barrier Reef, for instance…) and I usually put myself under a lot of stress for being late with all these pictures to sort and edit. But lately, I understood that what you really care about are my daily outfits, and that there is no emergency on publishing other articles right away. So I decided not to rush anymore when my articles aren't about clothes.
And it's actually pretty nice to take a break between all those outfits once in a while, don't you think? Well, I really like going back through pictures and reliving my memories…
Since we're getting close to leaving New York and we haven't see much of the United States, we decided to spend one weekend of each month in an American town from our bucket list. Atlantic City and Los Angeles? Checked! At the end of August, before the rush of Fashion Weeks, we decided to go to Chicago.
When looking for a hotel to book, we decided to go for the W, since we had loved the one in Montreal so much. We booked a room at the W Lakeshore, overlooking Lake Michigan. We weren't disappointed! The hotel bar and restaurant are very nice, the indoor pool is clearly an undeniable asset (and it was empty during the two hours we spent there!), the spa is gorgeous, the massages divine, and the rooms are spacious, beautiful and comfortable. The hotel location allowed us to go to many places by walk, and we really enjoyed the view on the lake, the Navy Pier and the Big Wheel. For outlying areas, we took the metro during the day and taxis at night.
We really like Chicago's atmosphere, the beautiful buildings (unlike in New York, you can often step back and admire them!) and the Loop (elevated train).
We also had the best burger of our lives (seriously, I mean it! The kind of burger that makes you think again about French tourists' enthusiasm for the Shake Shack in New York… A burger like a firework for your senses! More details below), and many famous brunches… I was so sad we couldn't spend a few more days there so I could try all the places I had spotted! (it's always the same problem on weekends : not enough meals to try everything I want!).

– for a breathtaking view of Lake Michigan and amazing breakfasts in bed : W LAKESHORE – 644 N Lake Shore Dr, Chicago, IL 60611
– for a brunch with a view (the Crab Eggs Benedict with their chili Hollandaise sauce are divine! And the banana stuffed and Nutella French Toast is unbelievable!) : CURRENT Restaurant (W restaurant)
– For the best burger ever (every burger seems so tasteless since then…) It's like Marshall's favorite burger in How I met your mother. A burger that is even better than in your wildest dreams. AU CHEVAL Restaurant – 800 W Randolph St – Chicago, IL
– For a massage that will relax you for the whole weekend : BLISS SPA (= W's spa)
– For a really Eggsceptional breakfast : Eggsperience

– Take a walk along Lake Michigan, whether it's sunny or foggy, the scenery will look totally different but in both cases, this Lake is really beautiful.
– Take a walk in Millenium Park and make silly pictures (like everybody else!) in front of the bean, because even though it's totally crowded and cliché, it's fun!
– Admire the view on the buildings from the John Hancock Building (= the 360 Chicago) or – we didn't have time to try that other option – from the Willis Tower and its Skydeck (glass floor, not for those with fear of heights like me!)
– Walk along The Magnificent Mile
– Walk into The Chicago Tribune hallway and read the quotations on Freedom of the press
– Discover Wicker Park / Bucktown, the hipster neighborhood considered to be Chicago's Williamsburg (a lot of nice second-hand shops)
– Being puzzled by the two corncob-shaped buildings, aka Marina City