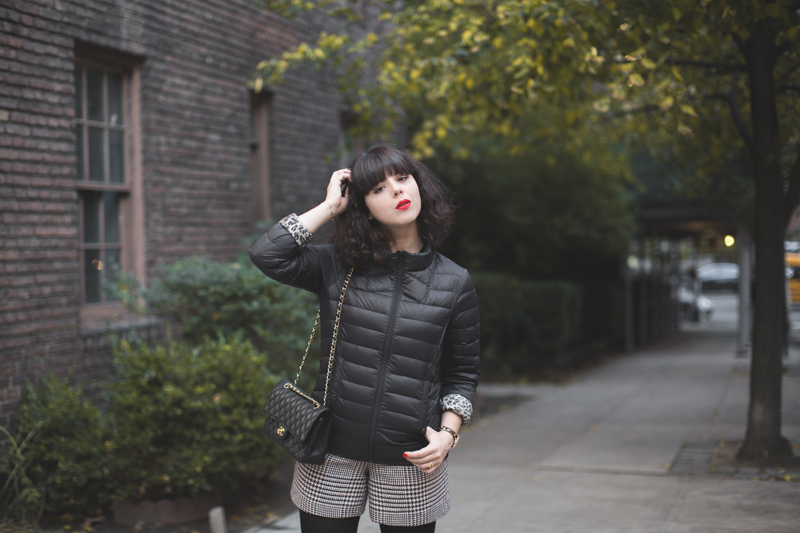 I've decided to start a new section on the blog : the "Remix and Match" !
The idea came to me when I was dressing up yesterday morning (watch out : here comes the fashion blogger's metaphysical thought)… On fashion blogs, we almost never wear the same clothes twice. Accessories, yes, quite often, but clothes… not so much. Almost never, actually. Whereas in real life, we wear the same clothes over and over again.
The principle of the blog itself makes it ambiguous. We had talked about it in a long article here, when I told you last winter that my trick to avoid getting tired of wearing the same clothes all the time was to wear them in different outfits. Wear the same clothes again but not together twice.
And then, yesterday morning, I thought: "why not making this a new blog section"?
The idea is very simple: taking the items of previous outfits to make a new one with things you've already seen.
So today I'm wearing: the IKKS blouse that I was wearing here, in my very last outfit post, the Tommy Hilfiger shorts seen last week here, my Marks & Spencer boots seen here and here. And of course my Chanel bag, that you see all the time.
Well, ok, I have to admit, I cheated with this little black down jacket. I've worn it a few times already, but only in real life, and not on the blog yet. But it was cold when we took the pictures (40°F yesterday morning), so I had no choice.
I'm also wearing two accessories that you've been seeing a lot on the blog lately : my Michele watch and my Redline bracelet. They never leave my wrists.
I had shown you the watch on Instagram here. It is so pretty and convenient with the interchangeable straps. I love it!
As for the bracelet, I've been dreaming of it for months. Since I had my first Redline ring, with neon thread and braided chain. I loved it and I was wearing it all the time, already dreaming of the diamond bracelet. And then, on August 31st, on my wedding day, I took it of and I lost it. Well, I won another ring that day :p. Anyway, this bracelet, half thread, half chain, with a diamond… I was dreaming of it. And I'm glad I waited! My mom, my grand mothers and my sister gave it to me for my 30th birthday! A beautiful diamond as a gift from 3 generations for my 3 decades… The perfect gift! <3 <3 <3
Voilà! I hope you'll like this new section!
See you soon!
–
I'm wearing (again) : I-CODE blouse – TOMMY HILFIGER shorts – Marks & Spencer boots – IKKS jacket – REDLINE bracelet – DELFINA DELETTREZ ring – Michele Watches Deco watch – CHANEL bag (similar authentic second-hand bags on Instant Luxe)