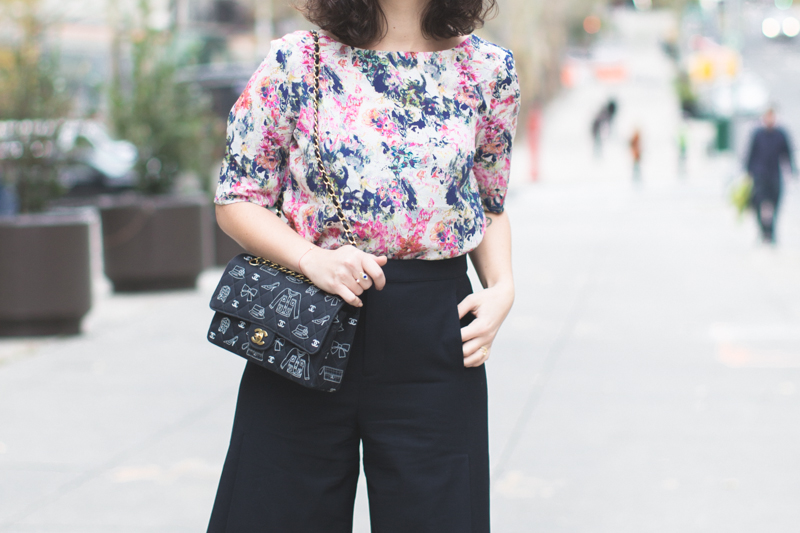 It's a bit confusing these days : it's cold, you think winter is coming, you get your tights and coats out again, and the day after, it's almost 70°F, you wear your stilettos barefoot, and you go out without a jacket on. There's no seasons anymore, my friends!
However, something remains : the wind. "A wind that could blow off the horns of the local bulls", as we say in French – and yes, I do have country roots. It makes the shooting of the outfits pretty complicated! Before, when it was windy, I would tie my hair back and we would try to do our best with my bangs. But that was before…
Now, with my curly bob (it's too long now, I really don't like this intermediate length), I get so nervous when it's windy because on half of the pictures, I've got hair all over my face…
As if it wasn't enough (or maybe because I didn't think about it), I was wearing my Monaco pleated culottes. It would have been easier if I had worn a slim. But no, I was wearing a sail, a kite, something made especially for wind to dive into it and not do justice to the perfect cut and beautiful heavy fabric that usually look so good. Well, too bad, I'll show it to you again soon, maybe in a "remix and match" :p
I'm also wearing a lovely silk top – I love the print (I brought it back from a nice diner with friends in Paris, organized to show us the beautiful capsule collection of Valentine Gauthier for Vila, that we all loved – thank you Marion!) and my "crushed raspberries" stilettos from SAN MARINA (stay tuned, the results of the Be Fashion in Los Angeles contest will be announced soon! I just can't wait to tell you the names of the two winners that I will meet soon in California!).
I hope you'll like this look!
Have a nice day!
–
I'm wearing : CLUB MONACO culottes – SAN MARINA Raspberry leather stilettos – CHANEL bag – VALENTINE GAUTHIER for VILA silk top – REDLINE bracelet – DELFINA DELETTREZ ring