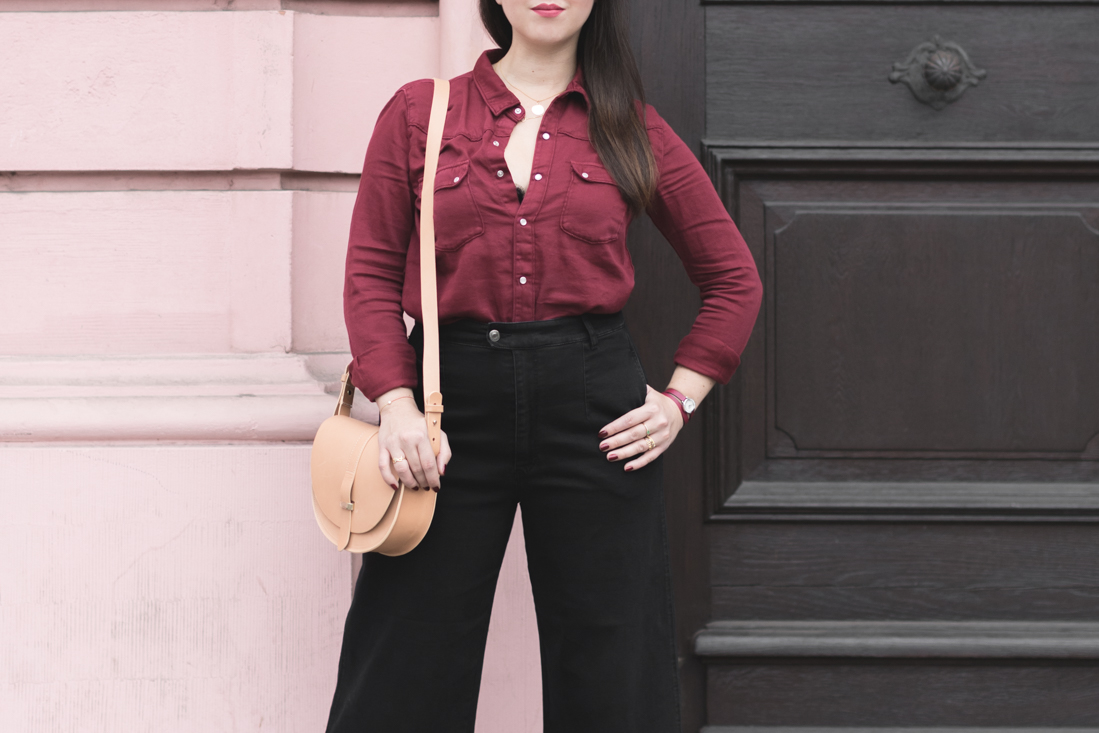 I'm back! I wasn't really here last week for several reasons: my baby is now going to daycare and the adaptation phase here takes a month, so I spend my mornings there with him, and therefore I have much less time to work (before going back to a real rhythm very soon, hopefully). The other reason is that I caught (at daycare maybe?) a nasty cold and fever, so I really didn't feel like shooting anything. Moreover, it was still way too hot for me to show you my new clothes. But clouds finally showed up this weekend, the temperatures dropped a little, and I was finally able to wear my new favorites.
I'm wearing BA&SH Bridget shirt and I love it so much because it's THE perfect shirt. I chose the burgundy version, but I already want them all! The black is inevitable, the grey is looking at me, the white one is essential, the denim version is beautiful and the kaki isn't bad either…
I'm also wearing my new favorite pants: high waist, wide legs, 7/8 from IKKS. It looks so fine with high heels but also looks cool with sneakers. And it's different from all the mom jeans and slims I used to wear. So here is my call to IKKS: would you please decline it in several colors? Grey denim would be perfect, for instance. Come on, please please please!
On my wrist, a beauty which hasn't left me since I had lunch at Baume & Mercier (which I told you about in my previous post, 48 hours of treats in Paris): the Petite Promesse watch. A lovely little watch with diamonds, nacre, and a double leather burgundy bracelet. It is so elegant and refine, I'm in love with it and I now can't stop looking at the time!
You also probably recognized my Sézane Claude handbag in its natural leather version. Here is another piece I would like to own in every color! Do you think there is a treatment to monomania? What about severe Sézanitis?
Apart from that… I went to the hairdresser while I was in Paris about ten days ago. I've decided not to go back to a straight thick fringe, and I chose a light strand which doesn't need as much care as classic bangs, but still looks much cooler and younger than the old strand behind my ear from the last few months. I just couldn't stand it anymore, I'm glad I had time to go to the hairdresser, and I like it the way it is now!
I hope you'll like it too. I leave you with the pictures. Sorry for being so chatty today!
BA&SH Bridget shirt – IKKS pants – SEZANE Claude handbag – BAUME & MERCIER Petite Promesse watch – C&A mustard stilettos – Dior, Mauboussin, Théa and Adamence rings – REDLINE diamond bracelet