"The beads and chiffon of an evening dress tangled among dying orchids…" The Great Gatsby, F.S. Fitzgerald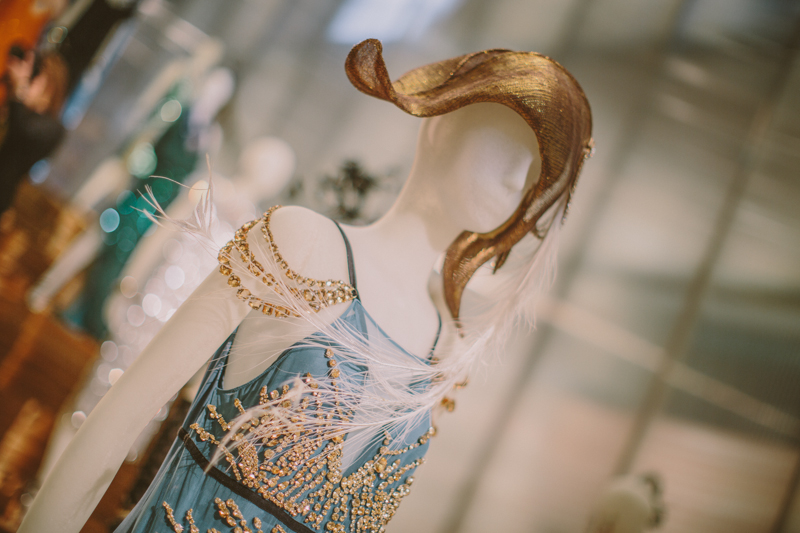 This sumptuous exhibit had been set up in Soho Prada store a while ago, but I waited until I had seen the movie to go enjoy it. I went to see The Great Gatsby on Friday, the day it was released, then on Saturday I ran to Soho before the exhibition was dismantled and transfered to Tokyo and Shanghai.
I really liked the movie, for many reasons, but I have to admit that the beauty of the costumes helped a lot.
I've always loved the 1920's fashion, this nonchalant clothing revolution, the straight and slinky dresses, the low waist… This was the embodiment of a new, freer femininity. I've always been fascinated by the unabashed sophistication of the golden years.
While I was in the movie theater, I wish I had a remote so I could freeze the image during Jay Gatsby big parties, and take my time to admire all those glamorous gowns.
Catherine Martin (Baz Luhrmann's wife) designed the costumes with Miuccia Prada, who adapted 40 dresses from Prada and Miu Miu archives for the movie. The result is absolutely stunning !
And I was lucky enough to admire those dresses for real ! The exhibit was wonderful, you could walk between the mannequins and see the details very very closely : the glitter, the beads, the cristals, the pendants, the sequins, the feathers, the furs, the beauty of the fabrics, the incredibly beautiful fascinators and headbands, but also some more modern touches, such as this camouflage sequin clutch – so contemporary.
Special mention, of course, to Daisy's Chandelier dress. It is so impressive to see it so closely after seeing it in the movie the day before ! As if you were jumping from virtuality to reality !
I leave you with a few pictures, that I hope will (circle all that apply) remind you of some sweet images of the movie / make you want to run to the nearest big screen to see these gowns « rippling and fluttering as if they had just been blown back in after a short flight around the house."