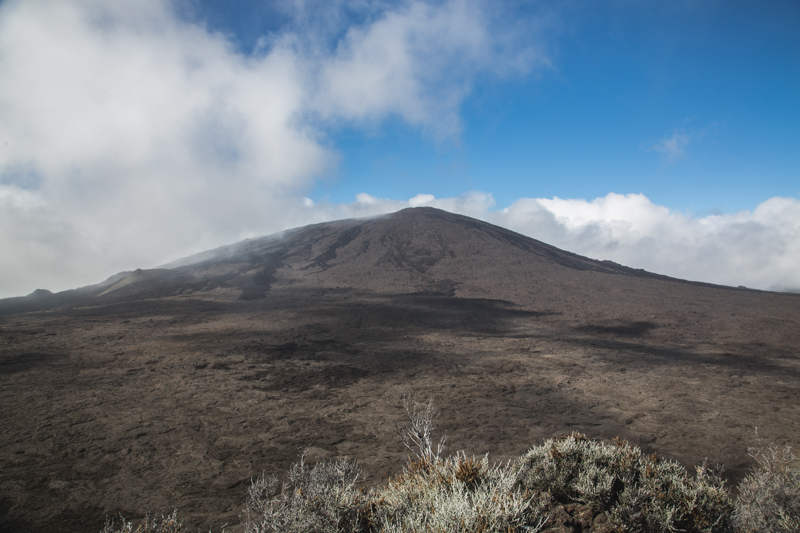 (no photo collage of my iPhone pictures to start my article today, I'll add them later, i didn't have time to do it. I'm in Australia right now and I don't want to spend much time in front of my computer!)
Here is the story of our third day on the island!
After a good breakfast at the Diana Dea and an orientation course that became difficult due to our non reliable GPS, we joined Philippe, our guide to the Piton de la Fournaise, one of the world's most active volcano, which peaks at 2632 meters high. We walked through the Plaine des Cafres to admire the Piton des Neiges and the Cilaos circus. Getting closer to the volcano is unbelievable : it's like being on the moon!! You feel so little compared to this immensity, and it actually feels good!
There are several hiking paths to get to the volcano, but our programm was very intense so we decided to admire it from the Pas de Bellecombe, from where you can also see the Formica Leo, the small crater that you can see on the pictures.
I guess you probably heard that the Piton de la Fournaise erupted on June 21st? I would have loved to see that!
Volcanic atmosphere makes you hungry! For lunch, we went to a very nice place that I highly recommend if you want to try Creole specialties : l'Ambéric. It's a small family restaurant on the Tampon area where you can eat curry, rougail and "gratin de chouchous" cooked in wood fire. The place isn't easy to find, but it's really worth the trip!
Then we went to our next hotel, and stopped on the way to admire the famous colorful Creole houses of the Entre-Deux village.
The Blue Margouillat is a 4 stars small hotel, probably one of the best places we had the opportunity to try during our stay. It's located above Saint Leu, it looks like a big Creole house and it offers 14 rooms with a lovely decoration, a beautiful pool with a view on the Indian Ocean and a gastronomic restaurant that is considered as being one of the best in the whole island!
We really enjoyed this place : it's far from the huge resorts that sometimes look like "tourists factories". Everything here is on a human scale, and you can feel it. The hotel is quiet, the rooms are luxurious and stylish, the staff would do anything for you, the restaurant truly deserves its reputation… Our only regret? We only stayed for one night, and we would really have loved to enjoy this place a while longer. But we had to wake up early the next morning for a pretty cool thing : an helicopter tour of the island, that I'll tell you about in my next article.
I hope you like these articles about my travels, you seem to be less talkative in your comments…

Philippe – VIP ( Vivre à l'Intérieur du Pays ) – Visites de l'île sur mesure – 06 92 95 37 03
L'AMBÉRIC – 13 chemin Raoul Hoarau – 97430 Le Tampon
LE BLUE MARGOUILLAT – Hôtel et Restaurant Gastronomique –  Impasse Jean Albany – 97436 Saint-Leu – www.blue-margouillat.com