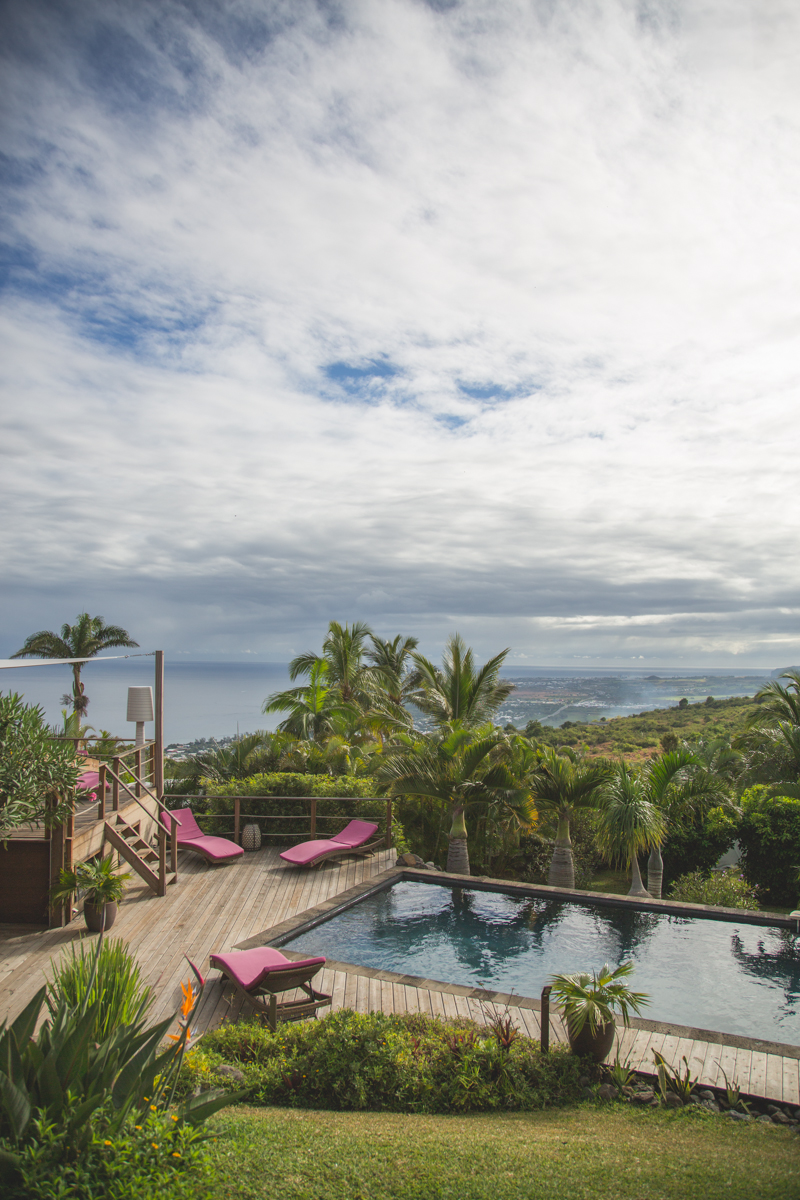 Here is my last post about my wonderful week in Reunion island! I made the pleasure last, but now I must close this travel diary in order to better open a new one.
The last days were very different from the beginning.
Indeed, as I told you in my previous article, Celinette had already gone and the program was less intense, so I had time for farniente, which I actually really enjoyed.
Losing my dear partner in the middle of the trip gave me the opportunity to get to know four travel bloggers that were here too. It was very interesting to discuss the differences and similarities between fashion blogs and travel blogs (I tried to rebuild the reputation of fashion bloggers, as  they are often considered as dumb chicks. We also talked about our opinion on the island, since our stay had been so different. The boys, Julien from J'aime le monde and Ryan from Le sac à dos discovered the island as "backpackers", doing  a lot of hiking and meeting people from the island, off the beaten tracks. As for the girls, Adeline from Voyages etc and Aurélie, aka Mme Oreille, mixed adventure (ULM, paragliding) and lazyness. I strongly advise you to take a look at their blog to see other aspects of the island that I won't tell you about since I didn't tried them.
But let's move to my last three days and to the places I visited during the week-end.
On Friday night and Saturday morning, I went to a very nice place (don't tell anyone, but if you must remember only one place among all those I told you about, I think it should be this one… and yet I really loved the Saint Alexis and the Blue Margouillat, but for other reasons) : the Villa Maïdo.
Villa Maïdo is a guest house held by a lovely couple from the Metropole : Maryse and Guillaume. Everything is friendly but intimate, luxurious but not flashy, beautiful but convenient. It would be the perfect place for a honeymoon! The only problem with this place is that you never want to leave! In the huge, luxuriant garden are several hidden places for two, so that each couple from the four rooms can enjoy private moments, far from the others. Gym, spa, and even local food cooking class organized on demand are available. The panoramic view on the Saint Paul bay is gorgeous. Some of you might recognize this place, since the villa is rented several weeks throughout the year for the TV show CUT.
On Friday night, I met some friends who settled in Reunion Island a few years ago ; they took me to a nice bar that opened recently in Saint Leu and that quickly became their GQ : LEU TIKI. Coincidence : it's the daughter of the Villa Maido owners who opened this cocktail and tapas bar, inspired by Hawaïi. It is as refined, elegant and welcoming as her parent's guest house, so this must be family qualities! I don't have pictures from the bar (I hadn't taken my camera… grrr… if only I had known…!), so you will have to take my word for it. Cocktails and tapas are great (more than fifty are available), and good value for money.
On Saturday, I discovered a very nice address to eat traditional Creole specialties (currys, rougail, péi cakes and grilled coffee) in a nice family business  : BAZOU restaurant. I fell in love with their geranium donuts : a pure delight that only the (lovely and very talkative) cook  can make – and she keeps the recipe a secret.
I spent Saturday and Sunday night in the LUX, the only 5 stars resort on the island, where you can find tourists from all over the world but also local people who came to relax for the weekend. I don't like resorts as much as I like guesthouses, but I would still recommend this place for families (there are activities for kids) and for people who like farniente (the pool is huge, the beach is gorgeous and the breakfast buffet is gigantic!). Moreover, it's located on the lagoon, which is really enjoyable. It gave me the opportunity to wear my Roseanna swimsuit (via La Nouvelle Vague) that you'll see on the pictures.
On Monday, we visited La Vanilleraie, a vanilla plantation, and a tamil temple in a hurry before jumping on our plane to Paris and then New York for me.

LA VILLA MAIDO – chambre d'hôtes – Hameau de Corbara – Plateau Caillou, 18 Rue de l'Ile Rousse, 97460 Saint-Paul – www.villa-maido.com
LEU TIKI – Bar à cocktails et à tapas le soir / restaurant le midi – 51 Bis, Rue du General Lambert, 97436 Saint-Leu
CHEZ BAZOU – Gastronomie créole – 304, route du Maïdo 97423 Le Guillaume (dans les hauteurs de Saint-Paul)
LUX – Resort ***** – 28 Rue du Lagon, 97434 Saint-Gilles les Bains – www.luxresorts.com
La Vanilleraie – pour tout savoir sur la vanille et acheter les meilleures gousses de l'île – Sainte Suzanne – www.lavanilleraie.com
—
Voilà, les posts consacrés à l'Île de le Réunion, c'est fini…
Je vous conseille vraiment de partir à la découverte de cette île aux multiples facettes ! Comme je vous le disais dans mon premier article, c'est une île qui ravira les amateurs de nature et d'aventure, en autres.
Alors bien sûr, je ne vous en ai pas encore parlé car je ne savais pas trop comment aborder la question sans tomber dans la désinformation ou le sensationnalisme… On ne va pas à la Réunion juste pour se baigner dans l'océan ou faire du surf, à cause du risque de requins. Attention quand même à ce que vous disent les médias en métropole, au final, c'est en vertu du principe de précaution que la baignade est déconseillée. Mais les accidents (surmédiatisés) sont rares. Néanmoins, pour ne pas être déçues, allez à la Réunion pour la diversité et la beauté des paysages, la convivialité et l'accueil des réunionnais, la qualité de l'hôtellerie et de la gastronomie locales et toutes les caractéristiques de l'île qui en font un endroit unique au monde : pour du tourisme centré sur l'intérieur de l'île plus que sur son beau littoral donc.
Si vous n'imaginez pas vos vacances sans vous prélasser dans une eau turquoise, pourquoi pas en profiter pour découvrir aussi l'Île Maurice, pour l'instant épargnée de ce risque, et s'offrir un combiné aventure et nature à la Réunion + farniente et baignade dans l'océan à Maurice ? J'ai eu la chance de découvrir ces deux îles séparément et c'est vrai qu'elles sont parfaitement complémentaires ! Vu la durée et le prix des vols pour ces deux merveilleuses destinations, je pense qu'il faut faire "une pierre deux coups" !
Question pratique, nous avons volé avec Air Austral et cette compagnie est au top : sièges confortables, personnel de bord adorable, plein de films, de quoi faire passer les 11 heures de vol un peu plus vite !
Voilà…. à votre disposition si vous avez des questions sur cette île merveilleuse, j'essaierai de trouver le temps d'y répondre si je n'ai pas déjà abordé le sujet dans un de mes articles ; )
—
Un immense merci à Anne et à l'équipe de Réunion Tourisme pour cette fabuleuse opportunité de découvrir cette île incroyable ! Je n'ai plus qu'une seule envie désormais : y retourner avec mon chéri plus longtemps afin de partager avec lui les chouettes adresses que j'ai pu tester, et aussi pour y faire les randonnées dans la nature que je n'ai pas eu le temps de faire cette fois-ci !
J'espère que mon carnet de voyage en photos vous a plu, et surtout, si vous y allez prochainement, n'hésitez pas à partager ici vous aussi vos coups de coeur et bons plans !
À très vite, cette fois-ci on mettra le cap sur Los Angeles puis l'Australie  ; )