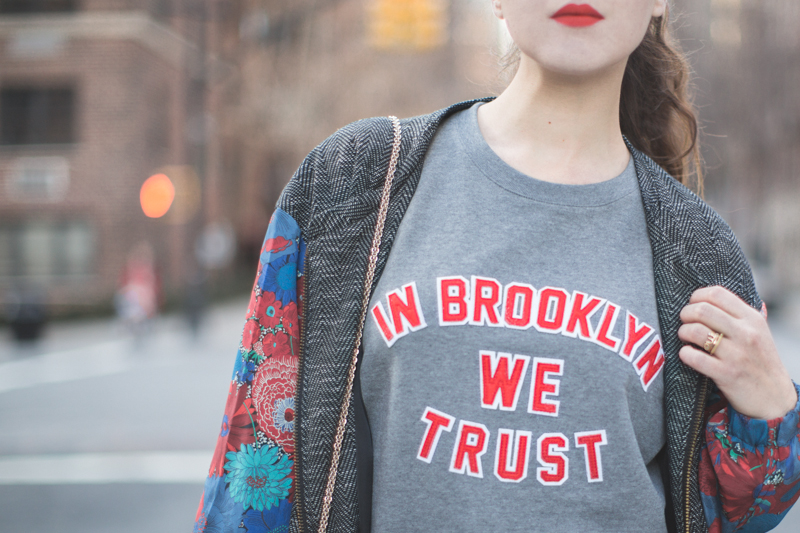 A weekend look to end the week!
A lovely sweat, jeans, ballerinas, a pretty bag and an oversize bomber jacket… I've been dreaming of this for the whole winter! A spring outfit! A rather shy spring over here, but I have faith.
Talking of ballerinas, do you know BLOCH?
After years of fidelity to Repetto and Anniel, I recently misbehaved, and I know I will do it again. Indeed, BLOCH ballerinas are similar to my two usual brands in terms of design, quality and softness. They cost roughly the same as a pair of Anniel (usually a little less), but there is a bigger choice of colors. And it's far less expensive than Repetto! Last but not least, there is a small rubber insert, which is very valuable (and almost necessary to walk through New York).
 As for this bomber jacket… what can I say… I've been dreaming of it, Margaux Lonnberg did it! Chevrons, flowery silk sleeves, really oversize… The perfect transition jacket! I'm a huge fan of what this girl does, her SS14 collection is just PERFECT! But we'll get back to it…
 I hope you'll like my outfit and my pictures!
 I wish you a great weekend, and don't forget to enter our MALOLES contest here on the blog or here on Instagram!
Bomber MARGAUX LONNBERG via Shopnextdoor – Sweat AMERICAN COLLEGE via SoJeans – MOM Jeans ASOS – Ballerines BLOCH rouges vernis via SARENZA – Sac VALENTINO Vavavoom via FORZIERI