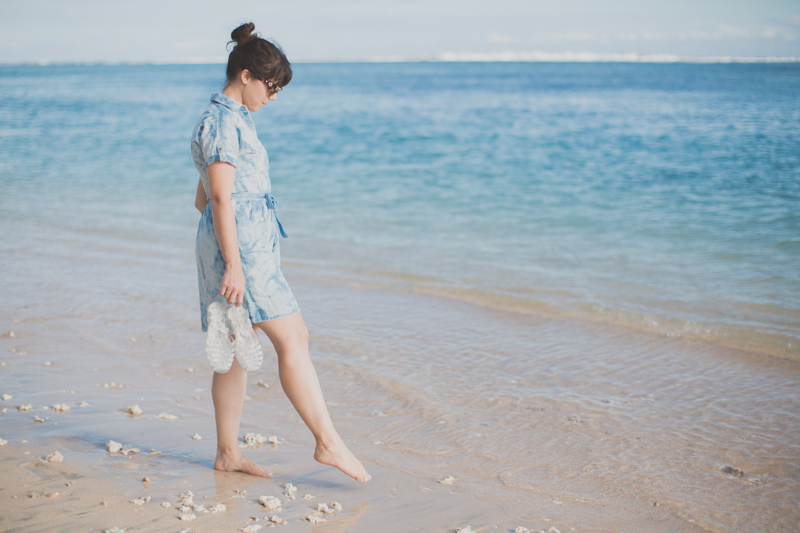 Before starting to tell you about my trip to Reunion, here is a little outfit shot there by my Célinette.
Paradoxically, we didn't shoot many outfits there : only two for me, and none for Céline. The thing is we had to see so many things in so little time. And even when we were motivated in the morning, after hours of drive, walks, visits, etc., we didn't look like anything anymore.
And yet I had taken a huuuuge suitcase full of beautiful things to show you… I blamed myself many time for this! I always leave home full of good intentions and shooting ideas, I fill my suitcase as much as I can, and then reality hits! We'll talk about it again soon and anyway, I'll show you everything I had brought, but in another setting!
As for this dress, I really wanted to show it to you in a postcard setting because when I saw its tie and dye denim, I immediately pictured it the way I'm wearing it : on a bathing suit, with a pair of plastic shoes, like a camouflage on a blue lagoon and a cloudless sky.
So we took these pictures just a few minutes before Céline left for the airport to take her flight back (my friend is the best, isn't she? – Thank you Célinette <3).
I'm warning you, I'm in a "holiday bun and bangs in the wind" mode, and above all, ZERO MAKE UP (as most of the time when I travel).
I hope you'll like the pictures and that they'll make you want to discover the upcoming articles about my trip to this beautiful island.
See you very soon!
—
Robe en jean TOMMY HILFIGER – Méduses SUNJELLIES ORIGINALS – Sunnies PRADA – Bracelet Pascale MONVOISIN – Bague Tigre KENZO via Monnier Frères (ici)
PHOTOS : CELINE – LESDEMOIZELLES.COM – EDITING : MOI ; )