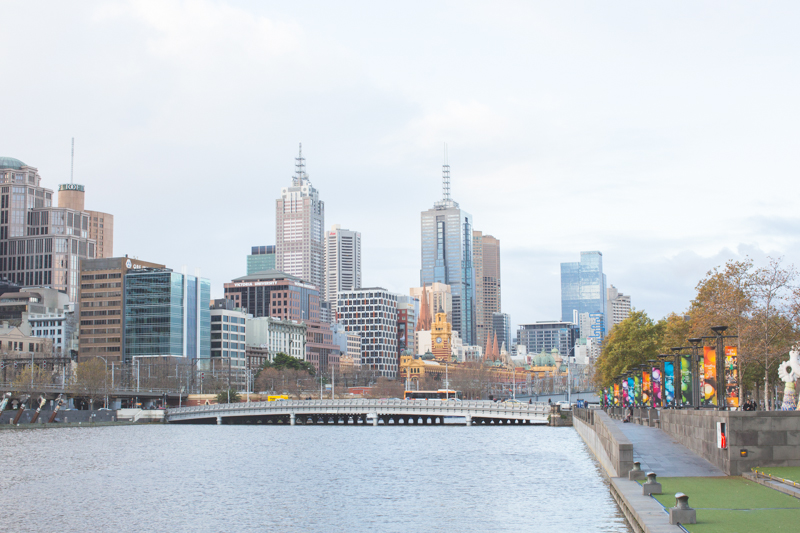 Let's finally begin the story of my trip to Australia with our first destination : Melbourne, a city we really enjoyed.
Due to southern hemisphere, we arrived there in the middle of winter. Such a shock after our stop in Los Angeles, and before heading to Queensland and its tropical weather! In Melbourne, it was only 10°C.
I can't tell you what an ordeal it was to pack my suitcase for a month with fancy outfits for the summer evenings in Los Angeles, warm clothes for the winter week in Melbourne, and comfortable and practical clothing for the road trip in Queensland's forest. And of course a few nice things to shoot for your enjoyment. But not too much, because 50 pounds is 50 pounds… So, once again, you won't be seeing a lot of outfits in this Australian schedule…
We were staying with some friends who settled in Melbourne more than four years ago. We spent most of our time talking about good old days and catching up, since we only see each other once a year, mainly for weddings. We also got to discover this wonderful town.
As you can easily see on the pictures, what struck me the most in Melbourne wasn't the beautiful Victorian houses (although they are very pretty), nor the coffee religion (baristas are demi gods in this city!), no… what struck me the most is that Melbourne really is graffiti city! There are entire multicolored neighborhoods, some "lanes" (dark and narrow streets) covered with graffiti, tags, stencils… even waste bins blend into the background like chameleons.
I've been living in New York for a year and a half, and I'd never seen anything like this before!
But Melbourne also has many other things to offer!
So here is my to-do list and nice addresses for a nice winter stay in Melbourne :

–       Taking a bike ride from St Kilda Beach to Brighton Beach to see the coast and the colorful beach cabins
–       Walking in the laneways covered with colorful graffiti (especially Hosier lane)
–       Spending time in Fitzroy, Melbourne's "Williamsburg", especially on Brunswick Street and Gertrude Street to see all kinds of second-hand shops
–       Wandering on Southbank along the Yarra River at sunset and drinking an Unlikely Lager at the Ponyfish Island, a floating bar under a pedestrian bridge (we didn't try the "sub-marines" – sandwiches – but they looked so yummy!)
–       Luna Park (it's not as good as Coney Island, but you should try the Scenic Train, that goes all around the park at several meters high – perfect at sunset for a wonderful view on St Kilda's Bay)
–       Going to see penguins hiding at night between rocks in St Kilda's pier
–       Watching trees at night to observe opossums

–       a fancy restaurant to delight your taste buds : CIRCA @Hotel The Prince, 2 Acland Street – St Kilda (I strongly recommend this place : it was a real treat!).
–       for a pizza with friends that will make your wonder about their logo : BABY 631-633 Church Street –Richmond
–       original and very good tapas : Pelican 16 Fitzroy Street – St Kilda : share plates are delicious, more convivial and you can try many different things (this white chocolate Rocky Road… yummy!)
–       a hipster bookshop : Metropolis Bookshop – Level 3, Curtin House, 252 Swanston Street – City + the Rooftop for a drink or a burger
–       Australian macarons : this last address is for French expatriates in Melbourne (anyone?) or for my Australian readers… Nougatine ! Hélène and Clément, our French friends who live in Melbourne, offer you the best of Victoria (local, seasonal food) in small macarons! Mint/kiwi, cocoa beans/coconut, strawberry/basil, lime/chili/white chocolate, peanut butter/chocolate, beetroot, the classic salted butter caramel… New flavors are created on a regular basis, and available on order or on Farmer Markets (calendar on their website, in the FIND US section). They can also create your dream cake for your wedding or any special occasion. I promote them not because they're our friends, but because their macarons are so good… Who knows? Maybe some of you live in Melbourne and sometimes miss REAL macarons… Nougatine – Macarons and Catering
I hope the pictures will make you want to discover this beautiful Australian town… A few days there only and we understood why our friends can't leave.
See you soon for Australian tropical North !
More info : Melbourne official blog and visitmelbourne.com
I'm wearing a Petit Bateau sailor sweatshirt, my Prada sunglasses, my dear Claudie Pierlot fur coat that I found on Videdressing.com and my little turquoise Chanel.