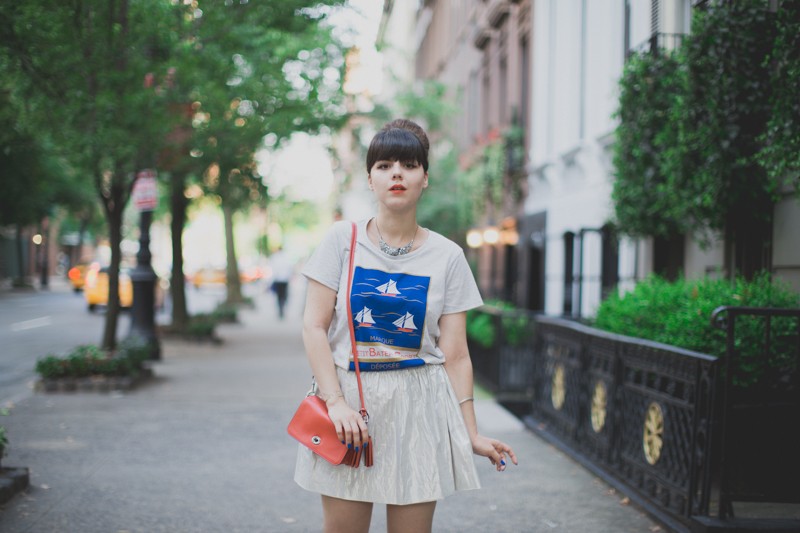 105°F !! This is today's temperature in New York ! With such a heat, it's getting hard to be motivated to shoot ! But you know me, even if I hate it when it's so hot, I wouldn't let you down anyway !
So here is a little outfit with a pretty t-shirt from Petit Bateau (a collector's edition for the 120 years of the brand), a skirt from  MAJE bought on sale on Place des Tendances, and a pair of silver leather sandals from Nine West, found on Sarenza during my « wild sandals purchase » (don't trust the pictures, the shoes aren't too tight usually, it's just that I have a tendancy to swell when it's too hot… My fingers start looking like little sausages, and my feet double ! Hello, Glamour !)
You will also notice my bun ! Swollen as well, ahah ! This time, it's an oversize bun ! When I saw it on Asos, I didn't hesitate ! The technique is the same as for a normal bun (my tutorial HERE) but you need to have longer hair. This huge bun is less easy to bear than the « bun volumizer kit » by Vivelle Dop that I told you about in my « Back in the city » article but, at least, everybody isn't wearing it !
I hope you'll like this look ! See you soon, if I don't melt under the sun until then !
PETIT BATEAU T-shirt – MAJE skirt via Place des tendances – NINE WEST sandals via Sarenza – COACH bag – SHOUROUK necklace – Oversize Hair donut ASOS – Nails : "Baker Street" NAILS INC.