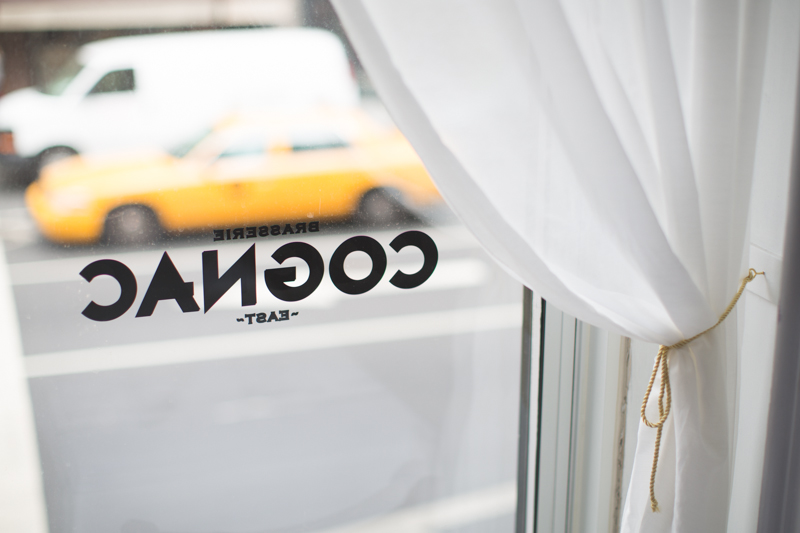 As you already know, one of the things I miss the most here in New York is our french gastronomy. I know there are a lot of french restaurants in New York, but… they're not always worth it ! I recently discovered, within a short walk from my place, a French brasserie, far better than many parisian ones : the COGNAC brasserie.
The chef, Florian Hugo (great great great grandson of Victor Hugo) created a very varied menu and taught his team how to offer new-yorkers the best of traditional french food.  Thanks to his training with Alain Ducasse, his cooking is very precise. You can find very typical dishes (gougères [1], veal blanquette, bœuf bourguignon, croque-monsieur, cheese soufflé) but also more modern and surprising creations (the tuna carpaccio and wasabi thin pie : absolute killing !), or more American dishes revisited « à la française », such as the filet mignon [2] and Emmental burger. All those dishes have something in common : they provide gourmet people with fine and delicate flavors – and believe me, when you live in New York, your taste buds thank you for not having to deal with high-fat, high-salt or high-sugar tasteless products. For once !
This restaurant is very successful with the homesick frenchies, but also with celebrities (I heard it's one of Mad Men cast's favorite places) and, of course, with the locals who  rediscover here the culinary experience they had in Paris.
My favorites ?
– The cheese gougères, that reminded me with emotion of my grand-mother's gougères (by the way, Granma, if you're reading this – yes, I have a wonderful grandmother who uses the internet and wouldn't miss any of my articles ! –  I send you a big kiss, can't wait to see you in August !).
– The croque-monsieur. It may look very simple, yet it's one of my favorite French dishes, and the French Emmental tastes so good compared to local cheddar !
– The tuna carpaccio thin pie (Chef Florian's original recipe with Japanese accents).
– the burger (of course !)
– the cheese soufflé (a real treat !)
Desserts are also very good (remember to keep enough room in your stomach !) and I fell for  the chocolate soufflé with its pistachio sauce. As for Romain, he really enjoyed the decadent profiteroles.
I hope these pictures will make your mouth water !
I really want to talk to you more often about my favorite places in New York ; would you like that ? I've been waiting to do it because I've only been here six months, and it takes time to separate real good places from the « places not to be missed » that you can find in any good travel guide (and you don't need me for that !).
Here are the two addresses for Brasserie Cognac (reservation recommanded) :
Cognac East • 963 Lexington Avenue (à l'angle de la 70th Street) • New York, NY
Cognac West • 1740 Broadway • New York, NY
And for those of you who cook, you should know that Chef Florian wrote a cookbook : « Les Contemplations Gourmandes » (a reference to his ancestor) in which he reveals several of his secrets !
See you very soon for a look ! Bon appétit !
---
[1] Small pastry puffs with cheese
Thanks to the Chef for the warm welcome ! More informations on cognacrestaurant.com