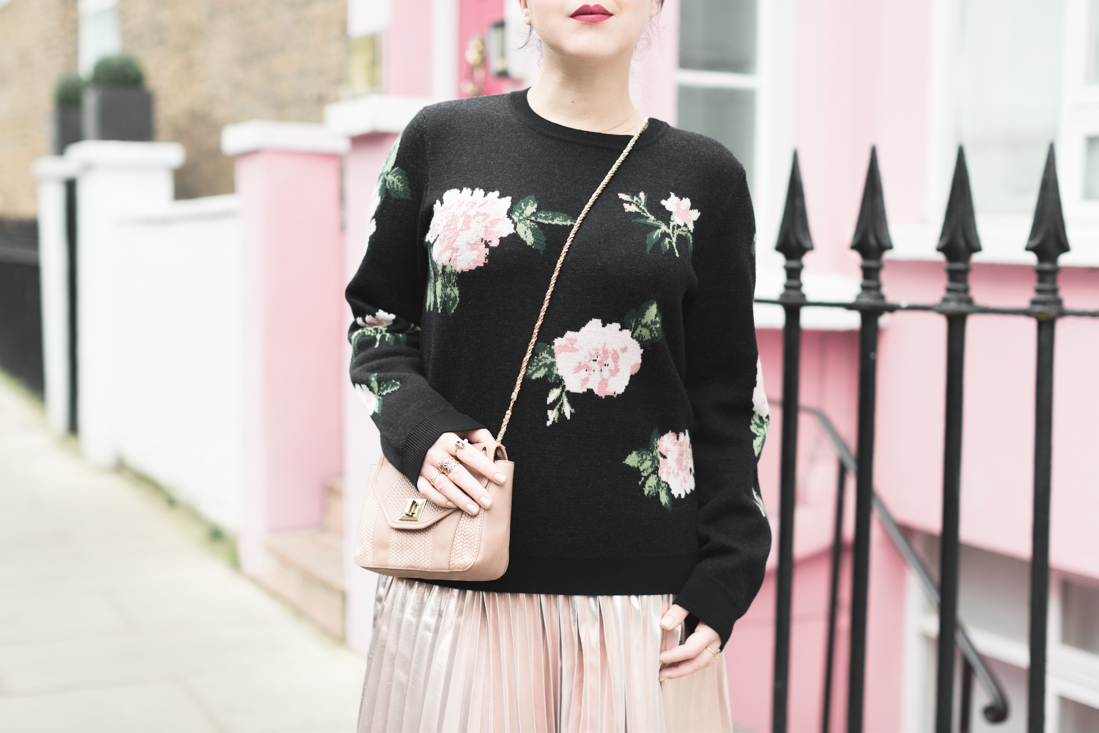 To start my new year's resolutions, here is an outfit shot in London exactly a week ago.
As I told you in my traditional "beginning of the year" article (thank you for your comments, I have almost finished answering each of you!), I would like to stick to a weekly rhythm of 3 articles, like little "rendez-vous" between you and me, 3 times a week!
On Sunday, Tuesday and Thursday.
So here is this Sunday's outfit!
I've had this sweater for a while now, but weirdly you hadn't seen it yet.
It's the famous Sony sweater from Sézane, with its lovely pink roses.
I often wear it with jeans, but for this shooting in Notting Hill, I chose to pair it with my pretty pink metallic pleated skirt, my little nude Clark bag that I love and a pair of Converse to walk in London pushing my kid in his stroller.
At first, I wanted to wear heels for the shooting, but then I thought it was ridiculous to wear them only for the pictures. I'd rather show you my outfit the way it was, the way I REALLY wore it, that is to say with comfortable shoes, according to our program of the day – on that day, we spent the morning walking in Notting Hill, then we went to Kensington Gardens, Hyde Park and Mayfair before heading back to our little cocoon in Soho. It was quite a long walk, and I don't impose heels to myself when I have to walk.
I'll tell you more about our apartment on Tuesday's article. Meet me Tuesday also on Instagram for a very exciting GIVEAWAY for those of you who dream of escaping to London!
There! Let's open the 2017 season with this little pink outfit. I hope you'll like the pictures.
Have a nice Sunday, and see you on Tuesday! I think I'm gonna like this little routine…
–
SEZANE Sony sweater – CLOSET LONDON metallic skirt (another version here on ASOS) – WOLFORD dotted thights – CONVERSE sneakers – SEZANE Clark handbag – Dior, Mauboussin, Théa, Edenly and Adamence rings