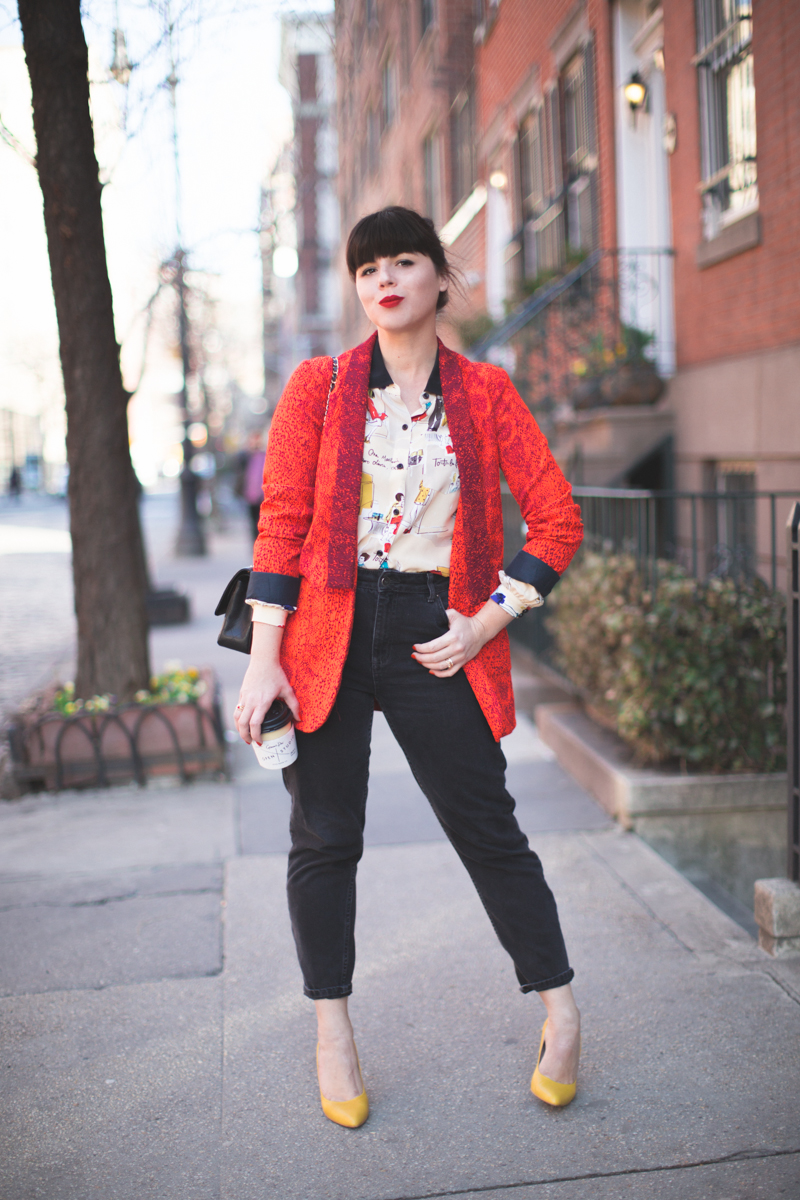 About a week ago, Garance Doré organized an OPEN STUDIO in New York to present her collection for Rifle Paper Co.
Despite the heavy rain, I was there! You might have seen some pictures of the pop up store on Instagram.
I've always been a huge fan of Garance Doré and her beautiful illustrations. I had loved her collaboration with Kate Spade. Besides, I'm completely mad about stationary (I have 42 millions of small notebooks that are still blank, about as many beautiful cards "just in case" that I actually want to frame rather than sending them… It all started when I was very young… I used to collect letter pads!). Moreover, I've been addicted to Rifle Paper Co for a few months now (remember my Paris and New York iPhone cases?).
Anyway, I bought a lot of things at the Garance Doré & Rifle Paper Co POP UP : several cards, the stationary set, the weekly desk pad – all here. I also asked Nicolas Ouchenir, probably THE most famous calligrapher in the world of fashion (he's the one who does the invitations cards for the greatest fashion houses), to write me a personal message that I gave to Romain for his birthday.
I came back a few hours later (still under a heavy rain – "all the girls are crazy", it's written on my blouse!) and I bought two prints of my favorite Garance Doré's drawings and several Rifle Paper Co cards. I witnessed a very glamorous talk between Garance Doré and Lola Rykiel about good manners, Paris VS New York, dating… all this with a lot of humor. I even talked to the beautiful Lola – I was probably as red as the jacket I'm wearing above! There also was a TATTLY workshop to get temporary tattoos of the illustrations/patterns of the Garance Doré Paper collection. Biggest regret of the day : I was silly, even though I talked to the beautiful Garance, I didn't ask her to sign my prints… Hashtag HUGE FAIL!
You can find the Garance Doré & Rifle Paper Co collection here (delivery worldwide).
I hope you'll like my outfit!
Have a nice Monday, and see you soon for the next PFB5 giveaway (the results of the POLABOX one here) and many other things!!
—
Veste ROSEANNA – Chemise GARANCE DORE x KATE SPADE NEW YORK – MOM jeans TOPSHOP – sac CHANEL (sacs similaires d'occasion certifiés authentiques sur Instant Luxe) – Escarpins jaunes GEORGIA ROSE via Sarenza