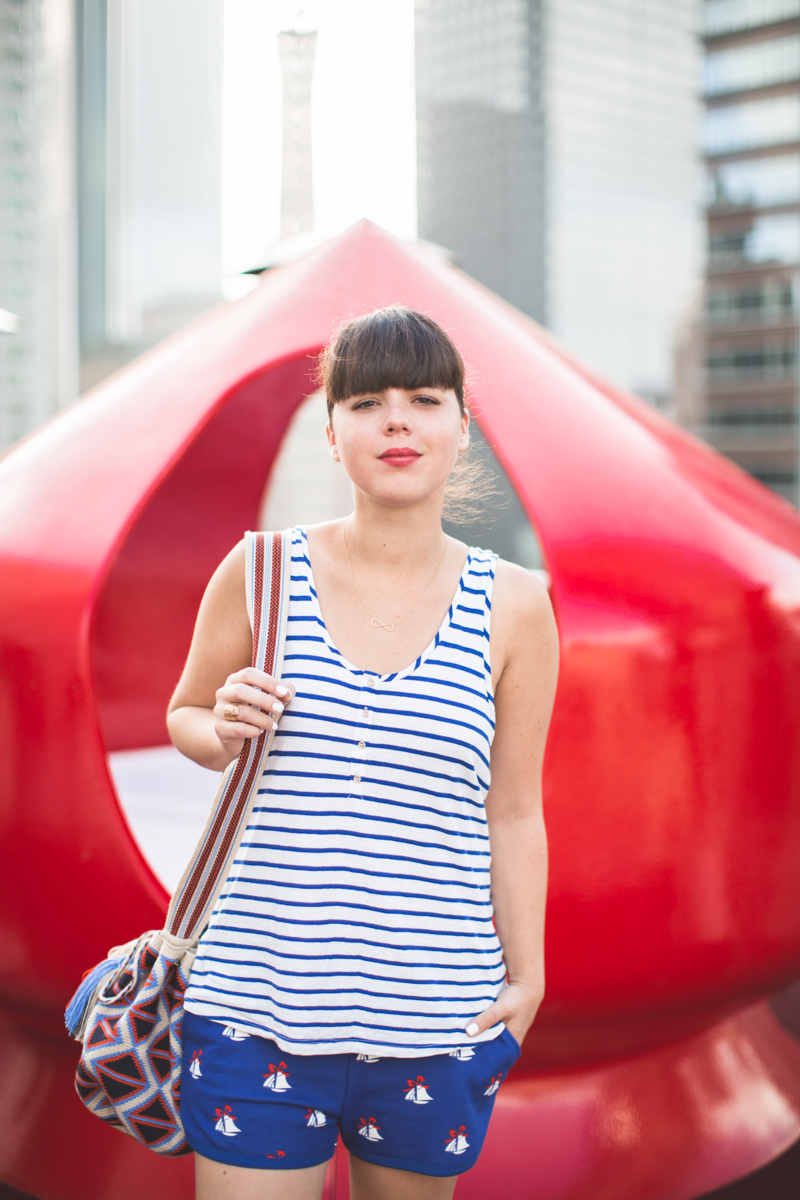 First, I want to say thank you for your lovely comments and all the birthday wishes. I'm glad you like my new haircut.
Let's go back in time about a month ago in Downtown L.A (back to the old times when I couldn't let my damaged hair down). Our second hotel was the STANTARD HOTEL DOWNTOWN L.A. Since we only spent three days there, we decided to change hotel for the second night, so that we could wander around in the neighborhood. The Standard Hollywood, that I showed you here, was located near Sunset Boulevard, the Walk of Fame and Beverly Hills. This one was perfect to discover Downtown L.A.
We actually didn't spend much time at the pool, since we had so much to see!! We got up early in the morning to take these pictures on a deserted rooftop. A perfect outfit for a day at the pool or the beach, with a cool mix of prints : a tiny short with a vintage Petit Bateau print, a sailor tank top with lovely golden buttons (Petit Bateau again), a practical bag for the holidays, and a pair of Mel.
I discovered Mel randomly on Sojeans, and I fell in love with this brand! I already loved Melissa : you know, plastic shoes smelling like bubblegum, their collaborations with Vivienne Westwood and Karl Lagerfeld? Adorable shoes, but rather expensive for plastic (said some). Well, Mel is the low cost version of Melissa! It smells good as well, the quality is there, as for the price… what can I say? The ones I'm wearing on the pictures were 32€, 20 € on sale here on Sojeans, and you can find many other nice models here.
I hope you'll like the pictures.
See you soon! Have a nice week.
—
Short PETIT BATEAU via Sojeans – Ballerines en plastique MEL by Melissa via Sojeans – Débardeur marinière PETIT BATEAU – Sac GUANABANA via Sojeans – Bague Tigre KENZO via Monnier Frères (ici)