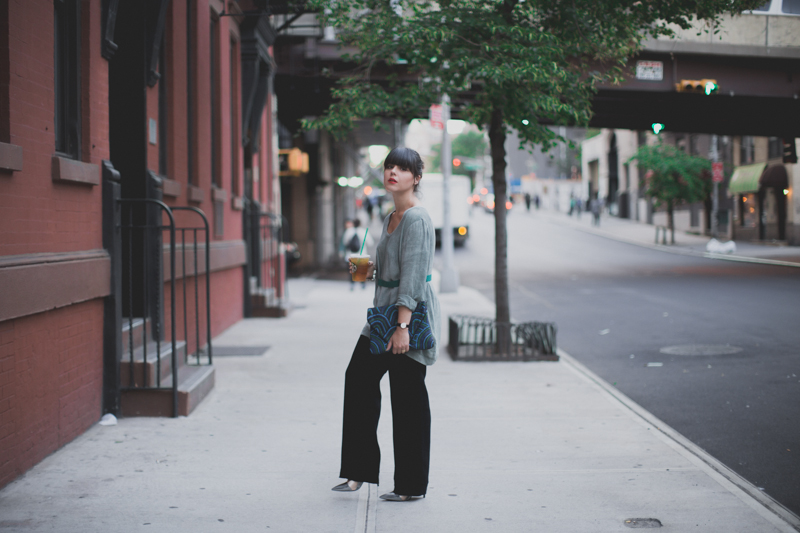 What a delight to finally get back to the usual rhythm ! Let me get this straight, I'm not gonna complain about the last few weeks : they were wonderful. But after a while, being late is so stressful ! My mailbox is about to blow up, and I feel terrible about not answering emails. I don't even know where to start!
This post is a perfect illustration of my being late : I should have posted it a while ago because it's part of a look battle for Fashiolista that ends today! (So if you have time, please vote for me here to get a chance to win a Ready To Fish 500 € voucher!)
So let's try to fulfill our commitments at the last minute, with this pretty outfit from a Dutch brand I had never heard of until Fashiolista asked me to be part of this battle.
READY TO FISH is a ready-to-wear brand from Amsterdam. The style is very edgy and minimalist. I chose to wear large wool pants that are both comfortable and elegant, and an asymmetric top, "so couture". Then I added a plaited leather pouch from Antik Batik that I bought recently and that I already love, plus my favorite silver stilettos, and here I am : walking in New York, sipping my now traditional 'iced green tea no sugar'.
I won't be long, I have to go back to my saturated mailbox. I am well determined to update everything !
See you very soon!
Top : READY TO FISH – Wool pants READY TO FISH – Shoes : See by Chloé – Clutch bag : ANTIK BATIK via MONSHOWROOM – Bracelet : SHOUROUK – Nail polish : RUFFIAN via BIRCHBOX, shade : HEDGE FUND