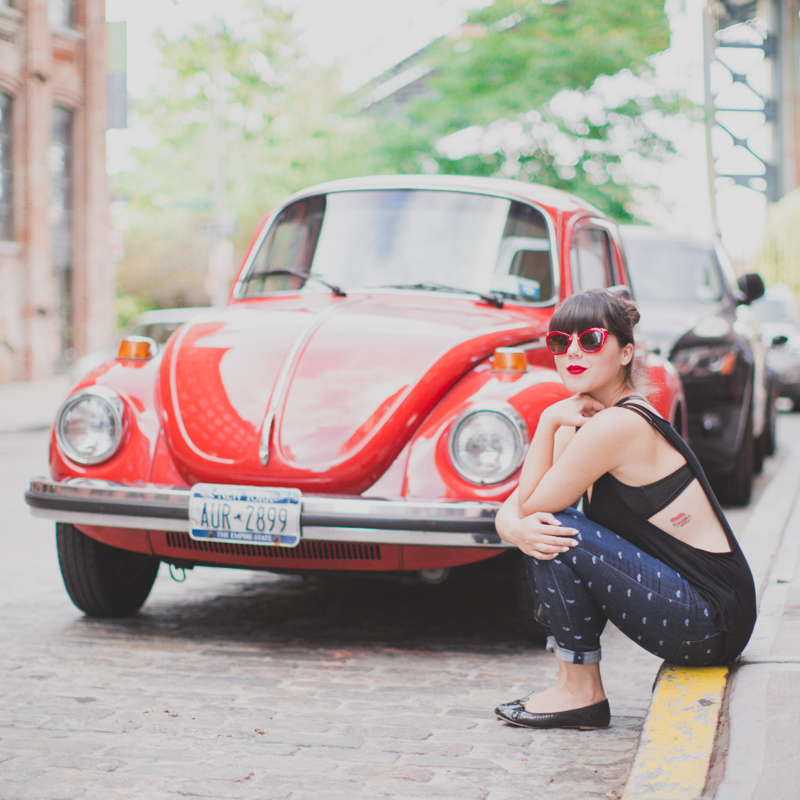 A little article I was looking forward to sharing with you. We took these few pictures almost by accident in Dumbo, near the Manhattan Bridge – that you can vaguely see in the back of some of the pictures. I wanted to talk to you about temporary tattoos, a nice pair of jeans and a gorgeous tshirt.
And it turned out we ran into this lovely beetle car after our Sunday brunch ! My favorite car ever ! When I was a kid, I stole a book from my father about the Volkswagen Beetle Car. There were hundreds of pictures of customized Cox* that were all absolutely amazing. I remember one that was entirely covered with grass !
I think that there never was a prettier car than this glossy red one (I voluntarily elude the suspicious reasons why the car was created in the first place. We're not here to reach the Godwin point in a few seconds !).
Anyway, this was a great set for our pictures ! Let's get back to what we're here for, that is to say clothes – rather than my Sunday wanderings in Brooklyn!
I'm wearing a heart printed blue jean that was given to me by Starlight and So Jean, and an asymmetric sexy t-shirt from MARGAUX LONNBERG collection on ShopNextDoor.
You may also have noticed my temporary tattoos. They come from a collaboration I made with BERNARD FOREVER for my wedding. Our friend Tikky, one of Romain's best men, drew a bunch of sailor inspired tattoos and we asked Bernard Forever to print them for our guests (they should be available shortly for you as well!). We also created a heart-shaped personnalized tattoo that read : 'just married', with our wedding date and our initials. We put it on our guests' plates! We liked the idea of our friends wearing funny temporary tattoos on the pictures. Actually, I kinda like the idea of a temporary tattoo in general… Don't you?
Have a nice week-end and see you on Monday !
---
« cox » is the short for « coccinelle », meaning « beetle » in French (note from the translator)
T-shirt MARGAUX LONNBERG via ShopNextDoor – Jean Adriano Goldschmied via SOJEANS (merci Stylight !) –  Ballerines ANNIEL via Sarenza – Lunettes de soleil MIU MIU – Bracelet flèche PASCALE MONVOISIN via CARATIME – Bague midi GORGANA GRIFFIN – Tattoos temporaires BERNARD FOREVER