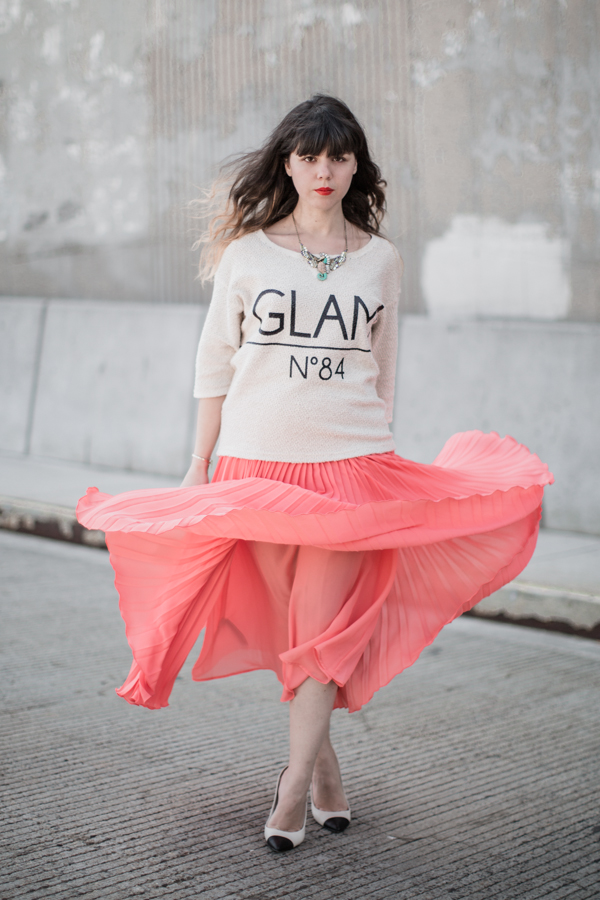 Aujourd'hui, c'est un total look MANGO que je vous propose !
Mais plus encore, je vous propose, grâce à Fashiolista
et à la plus glamour des marques espagnoles, la possibilité de gagner un bon d'achat de 500€ valable sur tout le site Mango !
Mais d'abord parlons de ma tenue !
J'ai choisi une robe plissée corail (j'ai une obsession pour les robes qui tournent en ce moment…), un sweater avec l'inscription GLAM n°84 (comme je suis née en
1984, j'ai tout de suite craqué), une paire d'escarpins bicolores très classiques du genre "comment ai-je pu vivre sans des escarpins comme ça avant ?!" et un collier hippocampe un peu
"shouroukisant".
Vous remarquerez aussi que, suite à vos conseils et remarques sur le shooting à Coney Island, j'ai laissé mes cheveux au
naturel, avec leurs ondulations ! J'espère que vous noterez l'effort, car j'ai vraiment du mal à ne pas lisser ma crinière 😉
Maintenant parlons de ce concours
Mango ! Le principe est simple : nous sommes 10 blogueuses en compétition, vous votez pour mon look ICI (pleeeease !), et vous suivez les instructions indiquées sur Fashiolista 🙂
A la clé, un bon d'achat de 500€ pour une des votantes ! De quoi se faire vraiment
plaisir chez Mango !

Quant à la blogueuse qui remportera la compétition et comptabilisera le plus de votes pour son look, elle s'envolera en juin pour assister au Mango Show pendant la
Fashion Week de Barcelone… Autant vous dire que je rêve de gagner ! Barcelone me manque tellement : je compte sur vous 😉
– Pour voter pour
mon look MANGO, cliquez ici ! –

Je vous laisse avec les photos qui j'espère vous plairont !
Bon week-end !
ENGLISH VERSION : Today, I'm giving you a MANGO total
look. Moreover, thanks to Fashiolista and the most glamourous Spanish brand, I'm offering you the opportunity to win a 500 € shopping spree
to spend on MANGO website. But first, let's talk about my outfit ! I chose a pleated coral dress (I'm getting obsessed with swinging
skirts, these days…), a sweater that says « GLAM n° 84 » – I was born in 1984, so I couldn't resist -, a pair of very classic, two-colored stilettos (How could I live without them
so far ?), and a "Shourouk-like" hippocampus necklace. Have you noticed that I followed your advice and didn't straighten my hair ?
Hope you appreciate the effort !
Now let's talk about this Mango contest !
The idea is very simple : there are 10 bloggers competiting against one another. You can vote for my look
HERE (pleeeeease !) and you follow the instructions on Fashiolosta. One of the voters will win a 500 €
MANGO voucher. Enough to enjoy yourself !
The blogger who received the most votes will fly to Barcelona next June to
attend the Mango Show during the Fashion Week ! Needless to say I dream of winning ! I miss Barcelona so much : I'm counting on you !
– Vote for my
MANGO look right here ! –
I'm leaving you with the pictures, I hope you'll like them ! Have a great
week-end !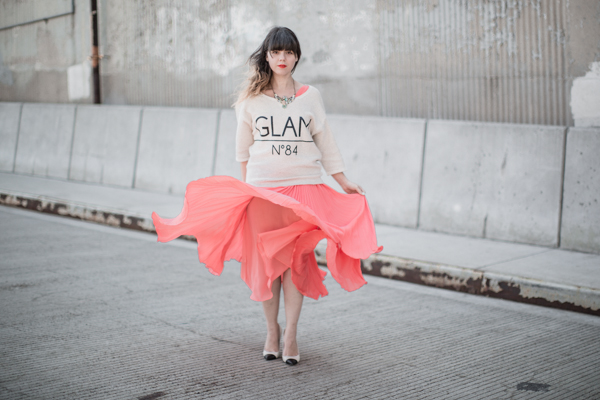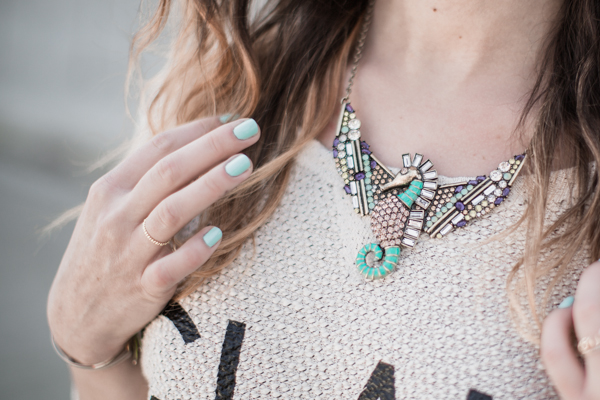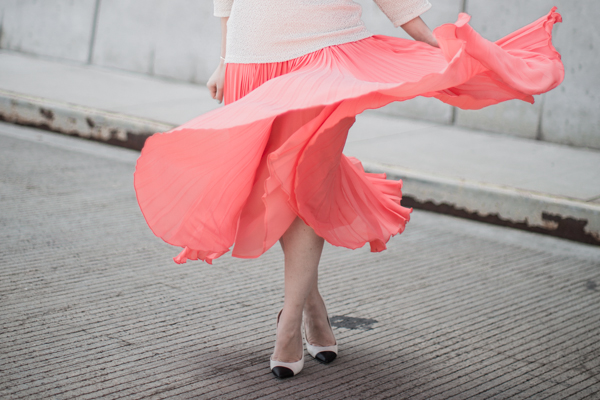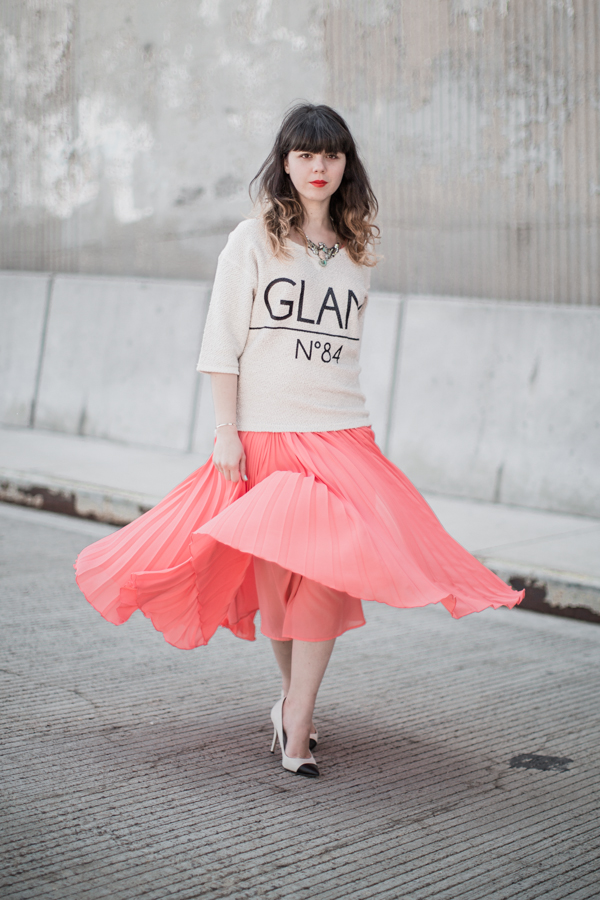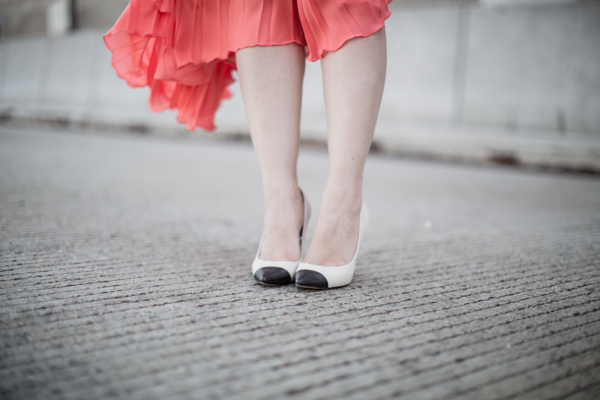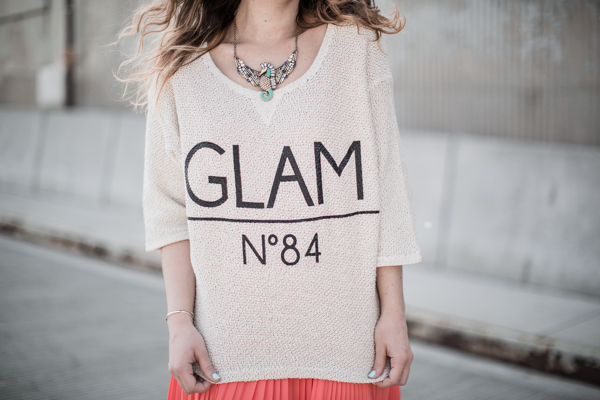 Pull, robe plissée, escarpins bicolores et collier hippocampe MANGO
– Pour voter pour
mon look MANGO, c'est par ICI ! Merci à toutes ! –
Photos : Romain ♥