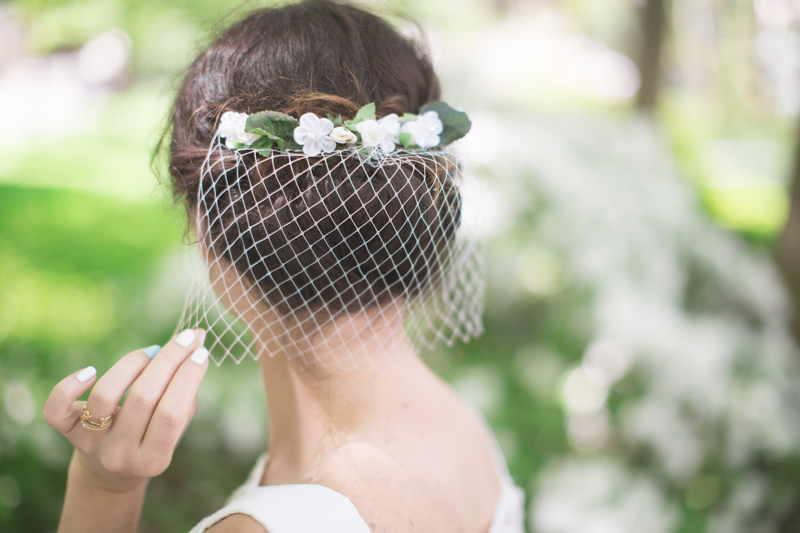 Before telling you about the past two weeks, I had to publish the last article of our Wedding series.
After the guest pink outfit among the sakura blossoms (here), after our vintage peach and purple bridesmaid among the wisterias (here), here comes the bride, surrounded with white azaleas!
There was no way I could make a wedding series without playing the bride! A year after my own wedding, I must say I had a lot of fun dressing as a bride again.
We've talked about this before, you know that when it comes to wedding gowns, I think the best way is to twist ready-to-wear pieces. Every one of us has (or had!) her very own idea of what her D-DAY should be. As far as I'm concerned, I couldn't imagine spending half of our budget on my wedding dress. A wedding is already very expensive, and I'd rather invite more people than buy, for only one day, a dress that would cost as much as dozens of diners! It was easy for me to make this decision because I don't like "meringue" wedding dresses, I prefer white ones from my favorite brands. You know how it ended  (or you can find out here and here).
To close this wedding series with ASOS, I had no trouble finding a wedding dress. I actually found two that complement one another!
The ASOS SALON collection is full of colorful beauties, but it can also fulfill a bride (ASOS WEDDING selection here).
I chose :
–       a lace smock dress (same cut as this one) which I think is perfect for a civil ceremony or to dance all night long (without walking on your long dress). I'm wearing it with heeled sandals (they have a blue touch for superstitious brides).
–       A naked shoulders top and the matching maxi skirt, vintage and modern at the same time, worn with nude sandals and a flower veil headband (that I put upside down on my bun).
So, what do you think? Which one do you prefer?
One thing is for sure : it made me feel so nostalgic about last year!
See you soon!