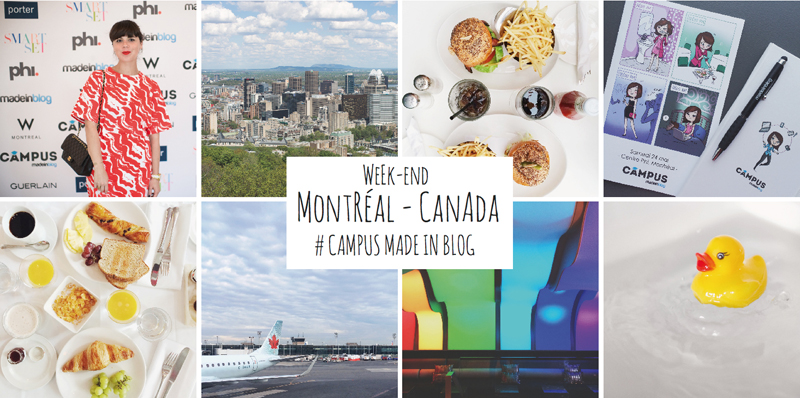 About two weeks ago, I started a series of short and long trips that I like to call "my trip around the world in 60 days". I'm now taking a two-week break in New York (I went back to square one to do laundry and update the blog) but I will leave again soon, and I really intend to take this time to publish many articles – I have so many things to share with you.
This journey began with four days in Montreal.
I always feel emotional going to Montreal : it was the first town I ever flew to and the first time I had a carrot cake (with 11 candles on it!) – and it's also where I spent one of my craziest blogger's week-ends with JPG's team in 2011. #remember
We didn't have time to do everything we wanted, and weather wasn't great except on the day we arrived and the day we left. And above all, we weren't there (only) for fun : I was invited to give a conference to a hundred bloggers during the "CampusMIB", organized by the Canadian agency Made in Blog, and more specifically Aurélie, who I had met last winter in New York.
I have to confess that I finished writing my presentation in the hotel there, and I even changed a few things the day before (it reminded me of my student years – I've always worked better under pressure, at the last minute…).
The subject was "how my blog became my job". I was quite nervous (40 minutes is a long time!) but I actually had fun, and I think the bloggers enjoyed it – if I believe their comments right after the conference, or later on twitter.
I didn't really realized what happened because I was taking a plane a few hours later to Paris, where I stopped for 24 hours before leaving for La Reunion – we'll talk about it soon.
Yet we had time to enjoy the quietness of this beautiful city (compared to daily New York!) and we loved the W – we really appreciated everything the hotel offers.
Here is a list of addresses and things to do in Montréal. It's not exhaustive, I'll have to go back to complete it !

–       walk on the Mont Royal and climb the 260 steps to the Kondiaronk Belvedere to enjoy the view on the city.
–       wander downtown and admire the graffiti and frescos on the walls
–       shop on Sainte Catherine street
–       be puzzled by Habitat 67, a building with a very surprising architecture
–       walk in old Montreal, especially on Saint Paul street
–       walk into Joseph Ponton's shop, the oldest costume-maker in town, and dream of a costume party

–       to sleep like a baby and take a bath with a lovely duck : the W hotel – 901 Square Victoria
–       for a breakfast of champions : OTTO (W's restaurant)
–       for cocktails and taps over the rainbow : the WUNDERBAR (W's bar)
–       to indulge yourself : the AWAY SPA (W's spa)
–       to eat a poutine : FRITE ALORS !  – 3497 Boulevard Saint Laurent
–       for a burger at any time : DEVILLE DINER BAR – 1425 Stanley (angle of Sainte Catherine)
–       for diner or brunch with friends : LES ENFANTS TERRIBLES – 1257 avenue Bernard
I hope you'll like the pictures.
See you soon!